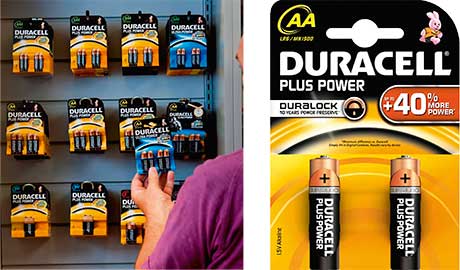 THANKS, in part, to so many toys, gaming gadgets and computer peripherals relying on AA or AAA power, the mainstream battery market in Britain is currently said to be worth around £328m. And that figure, from IRI, does not include discounters like some of the pound shops.
Discounters prices can seem very attractive to consumers but sometimes the batteries involved deliver poor performance, especially in high-demand machines and the team behind the Procter & Gamble-owned battery market leading brand Duracell says that has to be made clear to consumers.
"To retailers and shoppers alike these batteries can often seem great value, with a large number of cells available for a low initial purchase price," Menna Zaghloul, Duracell brand manager at P&G, said.
"However, the poor product performance is noticeable. In digital cameras, some cells can deliver fewer than five photos, while Duracell Ultra will allow effective use through more than 100 photos. In tested Hasbro toys, Duracell lasts up to 12 times longer than these batteries.
"All of Duracell's consumer communication is centred on the longer-lasting power message, to ensure that poor products don't generate a poor-quality impression of the category as a whole," she said.
Duracell offers more than batteries – it also markets a range of on-the-go charging devices designed to meet demands from modern equipment.
As technology has come to enable consumers to do more with their powered devices P&G says it has responded with an extended Duracell line-up that includes portable chargers, battery chargers and rechargeable cells as well as traditional disposable round cell batteries.
But those traditional round cells remain important.
Around 40% of batteries are bought on impulse, prompted by displays in store, and half of those sales are made from displays at the point of purchase, Zaghloul said.
"Regardless of whether they are on the shopping list, or picked up on impulse, over 70% of households buys batteries in the UK – indicating that there is still a fundamental need for them."
P&G's battery operation's latest message is about Duralock Power Preservation Technology, a system that locks in batteries' power for up to 10 years in storage. It has been introduced across Duracell's entire portfolio. Power Preservation Technology is being launched with the company's biggest media campaign in recent years, including Christmas TV slots.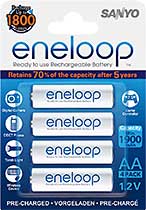 The firm argues that it's important for a retailer to develop a storewide strategy for batteries in order to achieve maximum sales through planned and impulse purchases. There are three key sites for merchandising batteries, it says:
• Clear and easy-to-shop main fixtures where key brands are used as signposts to ensure consumers locate the batteries section readily.
• Secondary sites, situated around stores next to products which use batteries.
• Checkout areas where displays can be used to to grab the attention of impulse buyers.
P&G says Duracell is committed to invest in displays in those important sections of stores with key retail partners.
• Eneloop rechargeable batteries from Sanyo are said now to hold their charge for five years. The firm says they're made with improved electrode material and can be recharged up to 1,800 times. They're designed to be ready to use out of the pack and, in accordance with the Green Power Certification System 4, all eneloop batteries are pre-charged (70%) using green power, in eneloop's case solar energy.
New technological developments are said to mean eneloop batteries are able to keep up to 90% of their charge after a year of storage and they're designed to maintain a constant high voltage level that will only drop once they reach very low capacity. That gives them an advantage over regular nickel metal hydride batteries that lose voltage continuously, the brand team says.
Eneloop rechargeable batteries are available in sizes AA and AAA. The UK distributor is Supreme.
• Benross has rebranded its Polaroid battery range. The new look AA packs and AAA packs have an RRP of £2.99. There is also a new free-standing display unit, to enable retailers to present the entire selection in one stand.