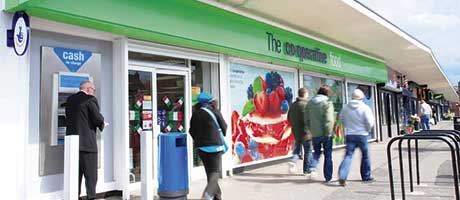 Stores show like-for-like-declin. Bank write downs see group losses hit £559m.
THE Co-operative Group, the biggest part of Britain's retail co-operative movement, saw food sales fall in the first half of 2013 compared to the same time last year. But the decline was overshadowed by huge problems at the organisation's troubled banking wing, which saw the group declare a loss of more than half a billion pounds before member payments.
Overall food sales in the six months to 6 July were down 0.4% at £3.6bn. But like-for-like sales, a figure which strips out the returns from those stores which launch or close down during the period, were down more, dropping 1.1%. However the group said the like-for-like performance had improved in its trading year's quarter two – the second half of the six month period.
Operating profit was also down, at £117.4m compared to £119m in the period in 2012.
Despite the decline the organisation's group business review said the food business had delivered "a solid performance against a backdrop of a difficult economy and continued fierce competition".
Sales trends in both quarters covered by the results had reflected unseasonal weather, it said. In the first three months of the year unusually cold weather had contributed to a 2% like-for-like sales decline while in the second quarter the June heatwave had boosted sales and the sales decline was constrained to 0.3%.
Operating profits had been affected by investment in the business and by a policy of price cutting under which it had reduced prices on nearly 1,000 products the review said. The group had also completed its long term logistics projects, designed to improve the service to its stores.
But the scale of the problems facing the Co-op Bank became clearer with the results announcement. The banking group reported a loss of £709m.In the equivalent period of 2012 the loss was £58.6m.
The massive hit this year reflects an impairment charge of £496m, as a result of the directors reconsidering the value of the bank's loans.
The Co-op Bank problems are being addressed by a detailed recapitalisation plan which includes the sale of the insurance business.