Whisky is booming abroad and brands want to import the export magic
TRAVEL almost anywhere in the world where things are going well economically and you'll find whisky, and most particularly Scotch whisky, returning strong figures. But back here at home, for many years things have been less rosy.
While whisky of all types – blends, malts, Scotch, Irish and imported – command significant sales the sector as a whole has fallen well behind its performance in many overseas markets.
And in Scotland, Scotch whisky plays second fiddle to vodka (much of it also produced in Scotland, of course) in share of total spirit sales.
However, there are signs that the whisky firms and brands are coming up with new ideas and that some of the vibrance and coolness that whisky exhibits in international markets is beginning to rub off in the UK.
And on more workday issues there are also signs that the firms are, quite successfully and quite innovatively, beginning to address issues like branding, packaging and the management of different retail channels (such as c-stores).
It's a fairly complicated drinks category with very many different styles, flavours and price points. How is it performing?
Spirits brands marketing and distribution firm First Drinks, quoting its own Drinks Market Report with information from Nielsen, CGA Strategy and TGI, said that in the GB off-trade spirits is the second largest beer wines and spirits category, with value growth ahead of both wine and beer. Multiple grocers account for 80% of value in the spirits market, which is up up 5% year on year while convenience outlets account for 20% of value sales, a share that was down 2%.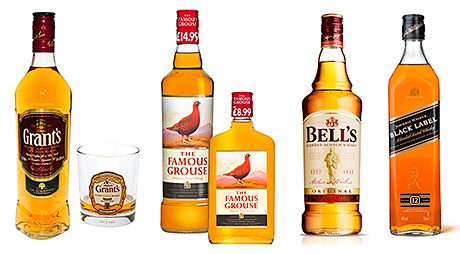 However, despite share being down First Drinks says the convenience sector is still worth over £35.6bn, a figure that was up 5%, and it sees it as a strategically important part of the market, which it expects to grow in value by more than £10bn.
Total GB whisky is worth nearly £1.2bn, up 2%. Of that, blended Scotch whisky is worth £824m, up by 2%, and accounts for 71% of all whisky value. Scotch malt whisky is worth £159m, up 4%. Gifting accounts for 43% of Scotch malt whisky sales. It suggests "good quality gift packs and new SKU sizes at accessible price points" are becoming important, influencing growth and persuading retailers to give more shelf space to Scotch whisky brands.
And it does appear to be true that whisky has seen many brand extensions and new types and sizes of bottle recently. In c-stores there are also many more whisky PMPs.
Drinks marketing and distribution firm Maxxium says The Famous Grouse is number-one blended whisky in total trade and that recent Nielsen Scantrack figures showed that in the off-trade Grouse was growing by 6.2% a year and was selling 1.2m cases in the UK market.
Its substantial marketing activity included seasonal support around events like Christmas and Fathers' Day and, this year for the first time, a summer TV advertising campaign.
And other expressions of The Famous Grouse have been released, perhaps most notably the peatier styles of Black Grouse and the Black Grouse Alpha edition, which was recently introduced in Waitrose.
Maxxium says single malt, where it markets The Macallan, Highland Park, Laphroaig and others, is showing strong growth in the off-trade.
It recently launched The Macallan 1824 Series, a range of four sherry-seasoned oak cask whiskies made to have different colours and characters.
International drinks giant Diageo does note that – while the UK blended whisky category is currently declining in volume by 2%, but increasing in value by a modest 1% to be worth £883m – in Scotland, the blends are down both in volume (by 3.9%) and value (where sales totals dropped by 1.1%).
On the other hand its Bell's brand maintained its position, accounting for more than one in six bottles sold through the Scottish off-trade and it sees scope for building in Britain and in Scotland on the remarkable global success of whisky, where it says its Johnnie Walker is worldwide leading premium spirit brand, worth nearly $6bn.
The firm says that given the global position it sees a massive commercial opportunity here for whisky and that it will soon unveil plans to recruit younger consumers.
At First Drinks the firm was keen to highlight some of the whisky brand activity it had carried out on in a bid to address the strategic opportunities in convenience stores mentioned in its spirits market report.
Oliver Dickson, senior brand manager for Grant's whisky, said: "This August we announced the launch of price-marked 35cl packs on Grant's Family Reserve Scotch whisky exclusively to the convenience, specialist and wholesale channel.
"We know that price-marked packs instil consumer confidence in brands and to capitalise on this opportunity, price-marked packs for Grant's will be on the shelves from September. We believe this initiative will help further boost blended whisky as well as introduce new, price-conscious consumers into the category."
On malt whiskies the firm argues particularly that retailers should make the most of malts as gifts.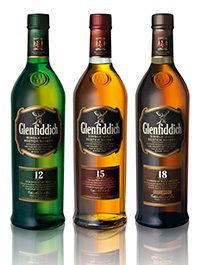 Sarah Harding, First Drinks senior brand manager for market-leading malt Glenfiddich, said: "Gifting is worth £138bn in the convenience channel, up 12%, but affordable gifting is key, and retailers need to offer solutions across all price points.
"We are committed to supporting the brand at key times such as Father's Day, Christmas and New Year."
Earlier this year Maxxium extended its range of price-marked packs in c-stores.
In July 70cl and 35cl bottles of The Famous Grouse and the American whiskey Jim Beam White and in August 70cl bottles of Teacher's were made available as PMPs.
Maxxium's business sector controller for impulse retail and off-trade wholesale, Ali Brown, said: "Shoppers are scrutinising price more closely than ever and therefore it has become increasingly important to offer fair pricing and perceived value for money. By extending price marking to these leading spirits brands we enable retailers to communicate prices clearly, instil confidence and grow this highly profitable category."