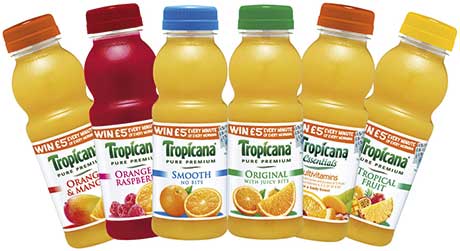 CHILLED juice is going all out to grab a slug of the morning market, with a year-long campaign promoting its single-serve products as an essential part of breakfast on the go.
Earlier this year it was ready to spend, spend, spend to promote the message that a small bottle of Tropicana counts as one of the customer's five a day recommended fruit and vegetable portions, with a promo that gave away a fiver each minute of the morning.
Quoting NPD and Pepsico's own research, marketing manager Sioned Winfield said: "With 55% of consumers leaving home without breakfast and looking for a convenient, portable solution, breakfast on the go has delivered £50m additional juice occasions within the last year."
Cranberry juice ties with orange juice as the UK's most popular breakfast lubrication, according to Kantar's consumer panel research. And Coca-Cola Enterprises says that's good news for Ocean Spray, which it markets. Quoting Nielsen, it says Ocean Spray sales are now worth £34m
Cranberry juices and juice drinks have the highest share of consumption among consumers looking for a healthy drink, said Dave Turner, trade communications manager at CEE.
"Consumers naturally associate it with breakfast," he added.
Ocean Spray has a new price-marked pack and a buy one for £1.39 or two for £2 offer, available until the end of October. The activity follows summer promotions on the theme of "refreshment".
Overall cranberry is the third-largest juice and juice drinks flavour –behind orange and apple. Last year Ocean Spray extended its range, adding two 100% juice varieties. Cranberry Blend and Raspberry and Blackberry with Cranberry both contain pure fruit juice.