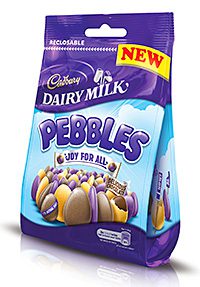 WE are a nation of midnight feasters, spending £5.6bn on snacks to eat in the evenings according to Kantar. Chocolate is the most popular late night munchie and a sharing bag of something sweet is a must-have for every big night in.
Mondelez International's latest innovation is Cadbury's Dairy Milk Pebbles, launched this month. They're small stone-shaped chunks of chocolate in a sugar shell. According to Susan Nash, the firm's trade communications manager: "The sugar shells contain the nation's favourite chocolate inside, and we see a real opportunity to drive growth within the category. Their playful personality and fun pebble shapes and colours make them ideal for family sharing time, whether it's for an afternoon treat or something sweet to accompany the big Saturday night blockbuster."
The RRP is £2.03.
Other recent NPD in Mondelez's sharing bags includes Cadbury Crunchums and Cadbury Crispello.
• Mars sees bitesize products – growing 7.7% last year according to Symphony IRI – as key to BNI sales. Quoting IRI figures, central sales director Nicola Lacey said: "In 2012, sales of sharing bag pouches increased by 27% and what's more, 31% of people decide to purchase pouch confectionery after seeing it in store, cementing its position as an impulsive segment."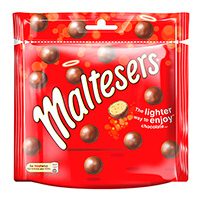 Maltesers provides the top-selling large pouch according to IRI, says Mars, followed by Galaxy Minstrels, Cadbury Giant Buttons, M&Ms and Revels.
Mars offers different display fixtures including the Slenda Glenda, Bambino units for till points in smaller stores and Bitesize wall dividers.
• Bonds reports that the recession has driven customers back towards traditional bagged sweets such as Humbugs, Fruit Jellies and Everton Mints.
It relaunched its 39p (three for £1) range and the £1 price-marked Wisepenny bags, underlining the price point.
"Both of these give tremendous consumer value and elminate the confusing price points and temporary offers often experienced in store," said managing director Philip Courtney Luck. "We predict that there will be an increase in sales of price-marked bags as more consumers look to get the same product in their c-store as they find in a larger chain."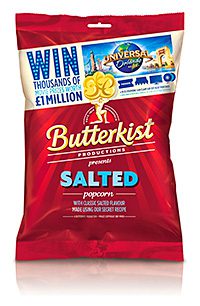 • Movie night means popcorn and Nielsen reports sales up 9% over the last year. According to Butterkist, toffee and sweet are the favoured flavours, but savoury options now make up 30% of sales.
"When consumers are looking to recreate the movie experience at home, popcorn is the perfect choice," said Helena Blincow, Butterkist brand manager. "In response to this trend we have created new microwave formats and delicious savoury flavours such as Sour Cream and Chive, Sea Salt and Balsamic Vinegar and Barbecue." There is also a larger 80g pack, RRP £1.49, which is ideal for sharing on the sofa.
Butterkist recently launched an on-pack promotion with movie and theme-park company Universal.
Images – Top, Cadbury's Dairy Milk Pebbles one of the new sharing chocolate lines from Mondelez International. Mars says IRI shows Maltesers to be the UK chocolate market's top-selling pouch product.