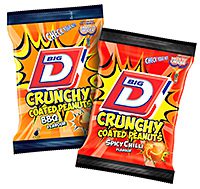 SNACK brand Big D is introducing two new flavours to its crunchy coated peanuts range, and will use the product launch to raise awareness of a male cancer advice and research charity.
The packaging on the new flavours, sizzling BBQ and fiery spicy chilli, will carry the message 'Check Your Nuts' in support of the charity Balls to Cancer.
"These are without doubt the crunchiest nuts around, packed full of flavour and irresistibly moreish," said Big D marketing manager, Kate Rathbone.
Big D's crunchy coated peanuts are made from 100% natural flavours and colours.