Scotland has a distinct grocery and convenience store scene. In home-produced items and other products we have our own preferences and we spend more in certain categories. And Scottish consumers are more inclined to spread their shopping across different retail categories too, Kantar Worldpanel business unit director Mark Thomson explained.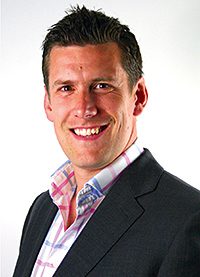 IN our December issue each year we feature our Top Scottish brands in Scotland tables and analysis as provided by Mark Thomson, business unit director with leading retail market research organisation Kantar Worldpanel.
It gives a fascinating insight both to the categories in which Scottish produce does well in its home market (bakery, meat products, cereals and a number of alcohol and soft drinks categories figure prominently) and to the Scottish brands that do well in Scotland.
But what about Scottish shopper behaviour on food and drink? Does the actual buying of food and drink (for Scottish-produced products and other lines) differ significantly from elsewhere in Britain? We thought it would be useful for retailers and producers to know so we asked Mark to give us some pointers.
Spend on take-home food and drink in Scotland over the latest year is £8.4bn and up 3.6%, just marginally behind the growth in GB spend, which reached 3.8%, he explained.
Perhaps the nation could be a llittle healthier in its shopping activity. Categories such as fresh fish, fruit and vegetables, and fresh poultry are all growing a bit faster in GB as a whole than in Scotland in particular.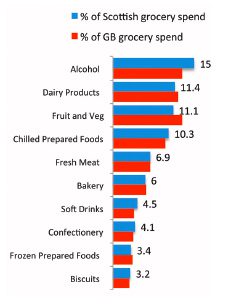 The average shopper in Scotland spent £3,078 on groceries over the latest year. That's £185 less than the average shopper across GB.
Among the categories where average GB shopper spending is ahead of Scottish spending are dairy, where Scottish shoppers are spending £46 less per household, as well as fruit and vegetables where they spend £76.43 less on average. Scottish shoppers tend to spend more on alcohol and soft drinks. Just over £10 more per household than the average GB shopper.
However things may not be quite as simple as the seem. Scottish spending in discounters is greater than in GB overall as is Scottish spending in what Kantar describes as smaller independents, likely to include c-stores and some specialists
The big four supermarket firms (Asda, Tesco, Sainsbury's and Morrisons) account for roughly £3 in every £4 spent in Scotland, the same as across GB as a whole. But discounters such as Aldi and Lidl account for a 7.2% share of food & drink spend in Scotland compared to their GB share of 6.2%, and small independent stores take a 13.9% share in Scotland versus their GB share of 10.5%.
For small independent stores categories such as alcohol account for a much bigger percentage of spend, 17.8% in smaller grocers versus 12% overall. In GB overall, that's not the case. Bakery, dairy and confectionery are also categories which account for a greater proportion of spend in Scotland in the independent channel whereas fruit and vegetables only account for 8.6% of spend, which is more aligned to trends across GB.
And the average Scottish shopper spends more on fruit and vegetables in discounters, £58 on average, than in small independent grocers, where they spent £51 on average over the latest year – the only category where shoppers spend more in discounters that in small independents.
In the smaller independents in Scotland branded products account for 57% of spend versus 50% in the big four (Asda, Tesco, Sainsbury's and Morrisons).