TANGERINE Confectionery has created a new umbrella brand, Candyland, to consolidate its sugar confectionery portfolio, which includes Wham and Dib-Dab.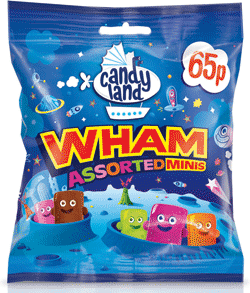 Candyland's first move is a two-for-£1 range, which rolls out into c-stores this month. Head of marketing Melissa Wilson, said: "We've harnessed the years of confectionery expertise and skill from around the business to develop new innovative products, reinvigorating classic flavours for a modern market, and retaining our popular retro sweets.
"Candyland provides a wealth of opportunities to create innovative products, extending our portfolio to appeal to kids and adults of all ages, and becoming the one-stop shop for all sweets."
Existing ranges such as Jelly Babies, Jelly Beans, Wine Gums, Liquorice Allsorts and Sour Snakes are now available in miniature size. Sour Space Mix has a new shape and a new recipe, while Fizzy Cola Bottles are now available with a liquid filled centre.
The Candyland two-for-£1 range will be available in 70g bags, with an individual RRP of 65p.