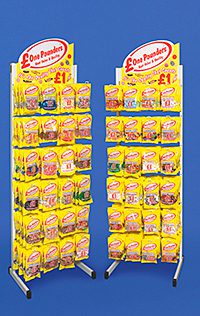 SCOTLAND's famous sweet tooth has, traditionally, been served by well-loved local confectionery suppliers.
And in a world of global confectionery brands there are still companies that supply traditional and modern sweets in the Scottish style for confectionery lovers of all ages.
Greenock-based Golden Casket has been a particularly effective brand builder and has valuable and popular properties in several parts of the market including Millions, the widely distributed price-marked hanging bag range One Pounders, the luxury chocolates brand J&A Ferguson's and Buchanan's toffees and fudge.
• The established Millar confectionery brand is being steadily revamped by its new owner Livingston-based Nisha Enterprises. The famous Pan Drops and Mint imperials are part of a range that now includes chocolate peanuts and raisins, mint humbugs, chocolate eclairs, dark chocolate mint creams, milk chocolate caramels and a chocolate assortment.
• Skye Glen provides traditional tablet and fudge that the firm argues is the best homemade-style available.
Free from artificial colours and flavours, Skye Glen products are also available in tubs that allow the consumer to share or to eat some now and keep some for later.