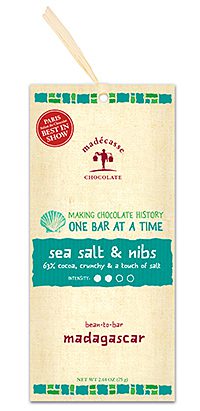 MADECASSE, the Madagascan 'fair for life' chocolate brand, is pushing its four flavoured bars to independent stores.
Arabica Coffee, Cinnamon and Sakay, Sea Salt and Nibs and Pink Pepper and Citrus are made in small batches using organic Madagascan cocoa and locally grown ingredients.
Distributed by Bespoke Foods, they come in 25g and 75g bars, RRPs £1.49 and £3.29.
Company founders Brett Beach and Tim McCollum estimate that their 'bean-to-bar' philosophy, which ensures that the whole chocolate production process takes place in Madagascar, provides four times the economic benefit of Fairtrade.