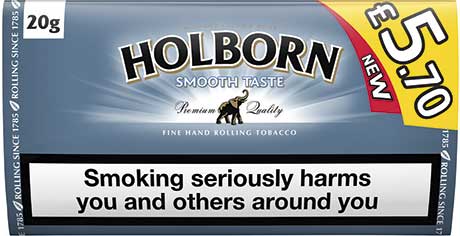 THE value segment of the booming RYO tobacco market has a new contender from this month, when tobacco giant JTI launches new Holborn Smooth Taste.
Available across all retail channels from 8 July, and likely to be in wholesale from the beginning of the month, Holborn Smooth Taste will be available in smaller sizes than the traditional RYO 12.5 and 25g packs to allow it to hit what JTI figures will be compelling price points. The 10g and 20g formats are a first for the UK tobacco market, the firm says. The packs have RRPs of £2.90 and £5.70.
Worth £1.9bn, and growing 15.2% year-on-year, RYO is currently the biggest sector of the tobacco category by volume. Value is the strongest-growing price segment within RYO and last year grew by 53% by volume.
Jeremy Blackburn, JTI's head of communications, said: "Value is the fastest growing RYO price segment and we've identified a clear opportunity to drive even further growth. Looking at value RYO as it stands, it's home to a mix of traditional brands and ready-made cigarette extensions – Holborn Smooth Taste is JTI's first ever traditional value RYO offering, and by plugging this gap we're creating a real profit opportunity for retailers."
Image – Holborn Smotth Tatse from JTI. Available in 10g and 20g, price-marked and non-price-marked packs from 8 July.