Ross Kerr is director of the SGF Healthy Living Programme, which has just received new Scottish Government funding. Patrick Duffy found out more.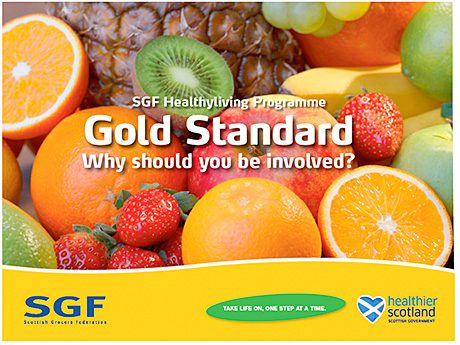 The sg interview
IF you're looking for a success story then you'll find it in the SGF Healthy Living Programme.
When it comes to public health, good diet and positive choices there's always more that could be done, of course. But since an alliance of suppliers and retailers established the programme back in 2004 it has taken fruit and veg, and more recently other good-for-you products, into c-stores across Scotland – including areas of multiple deprivation, which would traditionally have been considered hard to reach with a health message.
Just as importantly, it has done so with a commercially realistic attitude and used merchandising skills and other retail expertise to help ensure that the store owners do well out of the exercise too.
Now the programme is a joint effort between the Scottish Grocers' Federation and the Scottish Government and it has received a number of tranches of government funding – backing its modest, largely part-time, staff and providing the resource to develop crucial point of sale material.
The good news is that the latest funding has been approved. On the other hand, funding this time is for a year (just over £300,000) rather than the previous three-year period but progress will be evaluated at the end of the 12 months. The other big news is that guidelines have been issued that should make it easier to include many other products, beyond fresh fruit and veg, such as cereals, waters, certain breads, frozen vegetables and more.
So where does the programme stand now and what can we expect in the view of its director Ross Kerr? Has it been the success it appears? Is the funding enough? What are the plans for the next 12 months?
"The fact is we got the funding and that is good news," said Ross.
"We were at the end of Phase 4 which had been a three-year phase and of course we had to do an evaluation."
There were concrete achievements that could be quantified. There are now more than 1200 members of the programme. There are more than 1100 stands used to promote fruit and veg and other healthy goods in shops all around Scotland.
And the measurable benefits are still appearing.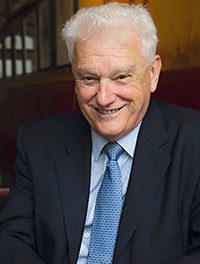 "We're still seeing growth in fruit and veg in the original retailers that were involved, the CJ Langs and the Scotmids" Ross said.
But arguably more impressive is the progress made in a very wide variety of store types. There had been growth in just about every category.
"Some very small shops didn't have any fruit and veg at all so everything they sold was extra.
"But if you looked at a retailer who had been doing some fruit and veg and they extended it and took in an SGF Healthy Living Programme stand, they were showing increases of 45 and 50%.
"And if you took a retailer that had a good range of product who then used a stand to feature fruit, in particular, as an impulse line, in impulse locations in the shop, they were showing increases of something like 22-25%.
"And it's obvious that if a retailer is selling more then somebody somewhere is eating more."
One of the targets of the programme had been to get healthier food into independent stores including outlets in low-income areas and that had worked pretty well too, Ross explained.
Some 60% of the stands are now in such areas. Last year he arranged a check and he found that many of the original stands were still going strong and were still being used appropriately, some eight years after first being placed in stores.
As a veteran of FMCG sales and marketing (he was for many years with Walkers) he was impressed, even envious.
"I told the people at the Scottish Government there are brands that would give their eye teeth to have their materials used like that."
On the year-long funding he recognised that money was tight in government, that care of resource and the need to know that value was being delivered was very important, and he has high hopes that funding will continue after the current period ends.
At present he's assisted by two part-time colleagues, one covering the west the other the east. To date points north have been covered by just a couple of visits a year but now he wants to put a new colleague into the area between Aberdeen, Inverness and Angus.
"We have managed to achieve things in every local government area in the country which I think is very good given the resource we have had available. But being able to put someone into the north will make a big difference."
Another part of the plan is to hit the cash and carries. The aim will be to hold demonstration events in the morning at cash and carry depots of companies like Booker, JW Filshill and United Wholesale.
"We'll take in some presentation materials, some stands and have the event in the morning and then go to see the retailers in their stores in the afternoon.
"I think that's a better use of my guys' time than driving around the shops."
The Scottish Government has issued detailed guidance as to what constitutes healthy bread, healthy cereals and the like. So detailed, in fact, that it's not likely to be an easy read for anyone who doesn't have an interest in the science.
"We plan to start with the bigger guys to see how best we can do this," said Ross.
"But retailers can now use branded products so I think this is a great opportunity for suppliers to say just which of their products comply with the information and can be used on the stands and with the Healthy Living POS."
Looking back to the beginning of the programme, to the way things are today and projecting to the future he's confident that the campaign has been and is likely to continue to be successful.
One sign can be seen in refits of all types of store by all types of retailer, he said.
"Once some stores had no space for fruit and veg. Now, in a refit, it's one of the first things that many retailers arrange."
Images – The SGF Healthy Living Programme takes the established principles of merchandising and applies them to fresh fruit and vegetables and now to other healthy produce too. It aims to deliver public health benefits and commercial success. Ross Kerr, director of the SGF Healthy Living Programme. He spent much of his career in crisps and snacks sales and marketing and says many FMCG brands would envy the retailer use of POS material that the programme has achieved.