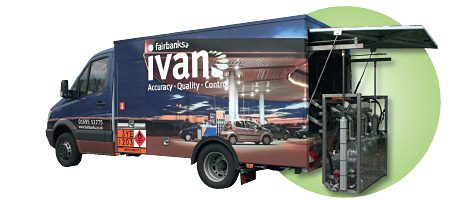 WITH fuel prices rising and margins under pressure from every angle it's essential not to lose stock. Wetstock management specialists provide petrol dealers with a variety of systems and facilities to ensure stock is sold and not lost.
Fairbanks reckons it has a particularly innovative solution in its ivan service, which uses a specially designed vehicle, approved by the National Measurement Office to measure, check and verify fuel dispensers, using a system that minimises vapour loss and manual handling and reduces health and safety risks caused by standard pump measure checks conducted on a forecourt – all without the need to remove pump nozzles.
Ivan is fitted with four glass vessels, covering the five to 20-litre range required to conduct verifications. In order to meet requirements, one 20L measure, two 10L measures and two 5L measures must be taken. Fairbanks says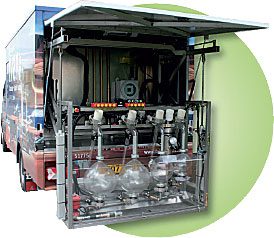 glass has been found to provide more accurate readings than stainless steel, which is subject to temperature change in both direct sunlight and cold ambient temperatures. The vessels are calibrated every 12 months at the National Measurement offices.
Once ivan has completed a pump measure check the engineer is able to produce a cost-benefit report on site, using throughput figures along with the percentage of over-dispense to highlight the pumps that will produce a net saving over time if they have the pump reset to strike.
Fairbanks argues that eliminating the downtime involved in generating such a report off site ensures there has never been a more convenient tool for fuel retailers to use to ensure their pumps are accurate.
And it says Ivan is also suitable for use on standard and on temperature-compensated dispensers making it is adaptable to all forecourt situations.
[hr]
• Wetstock management firm Pumpwatch says it has worked closely with legal metrology services and forecourt maintenance companies in 28 countries over the past 15 years to develop a solution to the ergonomic, low resolution and temperature issues relating to the important but arduous task of fuel dispenser accuracy testing.
Its PW Lite Series was developed for the forecourt industry to encourage service station owners and managers to take control of their wet stock monitoring and to easily and cost-effectively ensure that their fuel dispensers are not only dispensing within the legal tolerances but are always dispensing at strike and not giving fuel away.
Pumpwatch says that by regularly checking the accuracy of fuel dispensers service station owners and operators can save money, have a better knowledge of the wetstock cycle, and gain the ability to make better choices and informed decisions about their forecourt business.
The firm says it's the only manufacturer of carbon fibre test measures in the world and constantly strives to improve the equipment's accuracy and user experience. The PW Lite was created as a cost-effective, lightweight solution, which does not compromise on quality of measurement, it says.