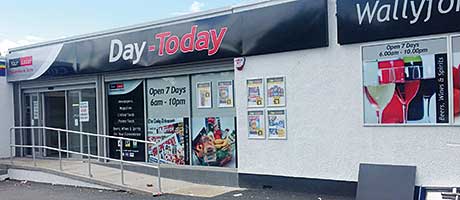 On the site of a closed and shuttered pub a state-of-the-art Day-Today store is ready to serve the community of Wallyford.
AS we have reported in recent issues, there's a growing trend to convert former pubs into c-stores. The reasons are interesting. First, there are many pubs struggling, often for the same reasons that some c-stores have been doing well – money's tight, and consumers are increasingly spending leisure and entertainment time and money on home-based activities. And there are other factors. Failed pubs are often on good sites with scope for a decently sized shop trading area, storage space and parking. The closed pubs are also often at the heart of communities. And they have a licence in place so, although there are still hoops to go through, they shouldn't cause too many problems in terms of local licensing board over-provision policies.
One of Scotland's latest pub-to-shop projects began trading at the end of May after shopfitting specialist Vertex transformed a closed bar in the East Lothian town of Wallyford for its client Mohammed Aslam, under the fascia of the Day-Today symbol group of United Wholesale (Scotland).
The new Day-Today fits the model of the pub-to-shop development very closely. It is a good site in a good location but, as Vertex's Alex Dalglish explained to Scottish Grocer, there was some considerable work to be carried out.

"The pub hadn't been trading and the building was in some disrepair so there was a fair amount of building work required to get the building to a shell," he said.
Part of the roof had to be cut back and part of the building, at the front, was then demolished before the new shopfront was built out.
The raised entrance meant stairs and a ramp meeting the requirements of the Disability Discrimination Act were also built. With an automatic door installed the new Day-Today presents a very clean-lined, modern image to the community.
Once the shell was ready the basic layout of the store, which has around 2,500 sq ft of trading space plus office, staff room and storage, could be worked up, discussed, agreed and implemented.
Day-Today's black fascia is intended for premium stores – which are often large, with a wide range of goods, a good fresh produce offer, an emphasis on chilled presentation and high-quality interior finishes. And the store developed by Mr Aslam at Wallyford fits that model exactly.
Alex Dalglish explained: "The store is heavy on chilled and fresh. It has a a nice produce section at the end of the chilled-food run. There's also 6.25m of chill for beers and wines."
All the chilled equipment is EC approved and the chillers feature remote compressors. However, given that the store does have a significant amount of space it was decided to use integral chest freezers that sit out in front of the chilled food, milk and fresh produce bays. Alex thinks that works well and is especially effective visually.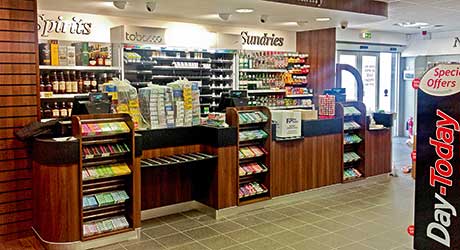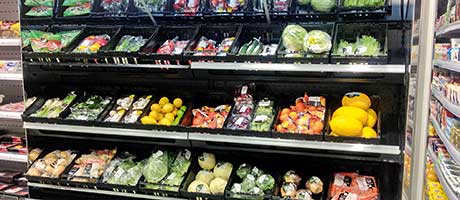 The standard of finish is high. Units include bespoke, specially coloured shelving –including walnut shelves in the off-licence area. The drinks section is given its own identity in a number of other ways too. The plasterboard raft above the shelving units is different at the off-licence section and in the ambient wine area Vertex installed red backlit panels to help the shelves stand out a little.
At the till points there's a solid-surface top – a premium fixture that provides a very smooth and durable finish.
Though the shop has still to hold its official opening it has now been trading for some weeks. Interior signage makes it clear that the store intends to provide a real local service. And when it opened for business in late May several hundred local residents quickly made their way through the doors of what once had been a closed and shuttered pub.
"I think the client is happy, which makes us happy," said Alex Dalglish.
"But the transformation is remarkable and I think the local community is impressed, too."