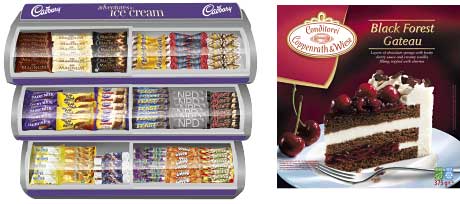 THE ice cream market is worth £933m in the UK and shoppers purchasing ice cream tend to spend more on an average c-store visit than other shoppers according to Unilever's Partners for Growth. The PfG service recommends that retailers have a modern, tidy, well-stocked freezer located near the till.
Unilever's category manager, Gareth Igo, said: "Shoppers are put off by freezers which they think are dirty. Make sure you maximise your sales and give the best possible impression by cleaning your freezer at least once a year. The doors must be smear free so that they can be seen through."
With volume declining, as commodity prices push up RRPs, customers seek the reassurance of familiar brands, argues ice cream manufacturer Fredericks Dairies. Its Cadbury Dairy Milk ice cream is said have shown a 192% value increase in 2012 and Fredericks predicts that to continue into 2013.
It also has high hopes for Flake 99, Crunchie Blast and the new Nuts About Caramel. Another of its new licensed products, a four pack of Oreo cones, is being sampled in stores this month.
Frozen desserts are set for a revamp. Coppenrath & Wiese has new desserts, cake and frozen dairy products based on what the company calls international development ideas from around the globe.
"We want to see more fixture space to be devoted to frozen dessert products. Once consumer awareness is raised and people sample our products we are certain that we can build loyalty and repeat sales," said commercial manager Bernard Maher.
• Icefresh has added a new licensed product for 2013: strawberry and lime flavoured Star Wars light sabre lollies. A six pack has an RRP of £1.99.
Image – 2012 was Fredericks Dairies' best year. It makes Cadbury Ice Creams, which was sole packaged ice cream provider to the London 2012 Olympic and Paralympic Games. Coppenrath & Wiese is currently investing heavily in a bid to boost the frozen desserts category.