Whisky group vows to fight on as Scotland's courts back parliament's right to pass minimum pricing
SCOTLAND'S whisky industry says it will fight on and is confident of ultimate success despite having its legal challenge to the Scottish Government's policy of minimum unit pricing of alcohol rejected.
Minimum pricing was passed by the Scottish Parliament last year. Under the law's provisions alcohol retailers will be required to charge a minimum of 50p per unit of alcohol for all drinks. In the Scottish off-trade it will increase the price of some cheap products such as white cider and cheapest-on-display vodka very considerably. Many other products will see more modest increases and the ability of stores to offer deep-discounted short-term promotions on alcohol products will largely disappear.
But before the regulations could be enacted the Scotch Whisky Association, backed by other European wines and spirit bodies, took action against the proposal, arguing it would breach UK law that covers the authority of the Scottish Parliament and that it would also breach European law.
But the Court of Session judgment issued last month said the introduction of minimum pricing would be legal and found no grounds for the action brought by the SWA.
The decision posted on the Judiciary of Scotland website said that Lord Doherty refused the petition, "holding that the Act was not outside the legislative competence of the Scottish Parliament; and that the proposed order setting a minimum price was within devolved competence and within the powers of the Scottish Ministers".
The court ruled that the Acts of Union didn't impede the minimum pricing measures. It also held that the measures were not incompatible with EU law saying that they were justified on the grounds of the protection of the life and health of humans.
But the SWA quickly confirmed it intended to appeal the Court of Session decision.
Chief executive Gavin Hewitt said: "We are disappointed our petition for judicial review has been refused. We are surprised at the ruling in light of 30 years of European case law on minimum unit pricing. We will be appealing against this decision and we remain confident of our position.
"The view from Europe is very different to that expressed by the court and we are not alone in having concerns about the legality of MUP. We are joined in our legal action by spiritsEUROPE and Comite Vins. The European Commission and more than 10 member states have expressed their concerns that MUP contravenes European Union trading rules and their opposition to the Scottish proposals.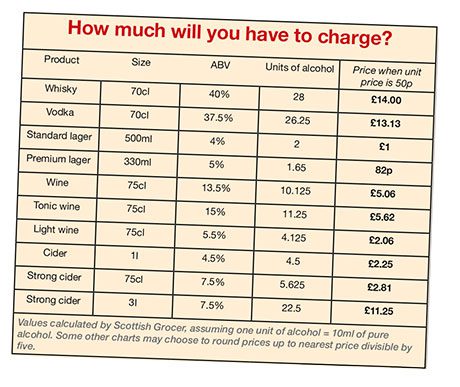 Image – The Scottish Government is still on track to introduce a minimum alcohol unit price of 50p.