Summer boost means it's even more important to get merchandising bang on says soft drinks giant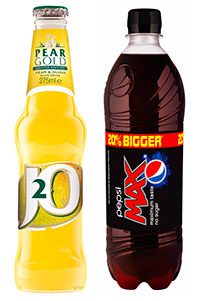 WHEN it comes to predicting the summer weather in Scotland, a fair whack of blue-sky thinking is required. But good summer weather certainly aids soft drinks sales. So in the hope that we do indeed welcome a heatwave it pays to be well-prepared.
And for Nigel Paine, commercial director for impulse at Britvic, that means c-store operators should be committed to merchandising best practice in their soft drinks aisles. That's true all year round,of course. But the possibility of summer boost makes it crucial during the warmer months.
Knowing your customers well, developing a relevant soft drinks range, ensuring prominent positioning of key brands and pack sizes, and excellent chilling are all vitally important to realising the opportunities that the summer months bring, he argued.
And offering promotions to value-hungry customers is also vital, he says, as research shows that consumers trust price-marked packs more than plain packs, as they deliver clear value for money.
Keeping soft drinks cool is another key aspect of convenience retailing of soft drinks. As the majority of soft drinks are drunk immediately after purchase, many consumers want them to be cold. In fact, says Paine, research is said to shows that 86% of consumers say that they want their soft drinks to be chilled and some 53% go as far to say they'd pay more for a soft drink if it's cold.
Keeping shelves well-stocked is also an important element in selling soft drinks. Some 38% of lost sales are reckoned to be due to poor availability. So, where possible, shelves should be fully stocked at all times, he said.
To make the most of connected sales opportunities, snacks could be positioned next to a chiller; or some other display solutions could be used to bring soft drinks and snacks together.
That can work not just for linked, on-the-go snacking or meal deals, but also for big-night-in displays, when sharing bags of snacks and two-litre bottles of soft drinks can be merchandised together on the same shelving unit.
Britvic-supplied brands said to be doing well include Pepsi, led by Pepsi MAX, which is up 7.4% in value and 10% in volume, as well as J2O, which has launched its summer special – Pear Gold.
The 2013 summer limited-edition line is backed by a brand-marketing campaign that includes TV advertising, radio support, the J2O Kitty on-pack promotion and interactive content on the J2O Facebook page. The seasonal special is a combination of pear and guava, designed to offer a soft-drink alternative to cider.
Image – Britvic's new-for-summer kid on the block, J2O Pear Gold, is backed by a big marketing campaign in support of the brand. Low-calorie cola Pepsi Max is growing sales year on year.