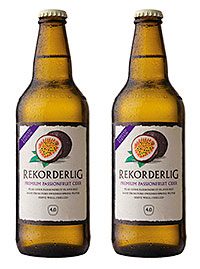 SUMMERTIME and the drinking is easy … or at least it should be for flavoured cider in the off-trade.
While total volume sales of cider are in decline, one type – flavoured cider – is increasing sales at a cracking pace.
And with cider, generally, one of the drinks most likely to receive a summer boost it looks as though the flavours could be quenching seasonal thirst in a big way in 2013.
The team behind Swedish cider brand Rekorderlig said market analysts' findings show that in the last 12 months sales of flavoured cider grew by 62.8%.
Demand for the Rekorderlig range peaks in the summer months and firm recognises that certain flavours are more suited to provide thirst-quenching refreshment on a summer day. Its range includes regular seasonal specials and the brand recently launched a limited-edition Passionfruit flavoured cider, available until September.
Sales of Rekorderlig fruit flavoured ciders have grown by more than 144% year on year – well ahead of the market, it says. And this summer, the company is investing more than £4m in its first significant advertising campaign, in a bid to reach existing and new consumers.
Other activity will include work in the on-trade including 'Beautifully Swedish' barbecues and cocktail masterclasses.
The firm reckons such activity will build Rekorderlig's audience across the UK and, in the process, increase sales in off-trade outlets across the country too.