SOME of the most experienced researchers covering the convenience retail industry are convinced we'll see major changes soon. One of the predictions is that a good number of c-stores will begin to take hot food very seriously.
Snack foods provider Kepak reckons the future is here already. It figures that providing consumers with food as well as the means to heat it will be a win-win all round.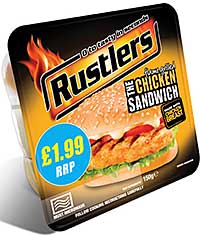 Kepak provides a solution for c-store hot food to go with its Rustlers and Zugo's Deli Café ranges and its new all-in-one microwave and stand which, the firm says, has helped to boost sales for hot products by up to 280%.
The Heat and Eat stand is pre-programmed to cook Rustlers and Zugo's Deli Café hot-snacking products, but can be used to cook just about any hot products. It comes with a built-in bin to keep the surrounding area tidy.
Heat and Eat stands with microwaves are available at £500, plus VAT, with the stand only available at £360 plus VAT.
Angela Daulby, channel director for Kepak, said: "Consumers shop at different times of the day for different purposes. HIM CTP research showed that 79 per cent of purchases in convenience outlets are made by shoppers on an eat-now mission, which, combined with our microwave stands, presents a huge opportunity for retailers.