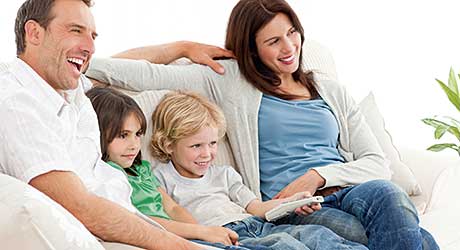 Stats show consumers are still choosing staying in rather than going out. But retailers say these days a big-night-in strategy has to be about value too.


WHILE tough economic conditions have presented undeniable challenges for all businesses they've also brought opportunities for certain types of retail outlet. In their different ways pound stores, deep discounters and convenience stores have all done well. And some product groups have also seen benefits, including big-night-in goodies.
Pubs, bars and restaurants have had a very tough time as recession-hit Brits have chosen to eat, drink and party more at home. But take-home retailers, including many c-store operators have won extra business as a result of the stay-at-home socialising.
But is the trend just as marked today? And, if so, how should retailers approach it?
We asked suppliers in some of the classic big-night-in product categories – such as confectionery, drinks, soft drinks, snacks and hot snacks – for their thoughts. And on pages 66-68 we speak to key Scottish retailers about their big-night-in outlook.
Let's start with the broad picture. Confectionery is one of the classic big-night-in product categories and confectionery firms are well aware of the importance of big-night-in purchases.
At Cadbury brand owner Mondelez International trade communications manager Susan Nash, quoting Nielsen data, told Scottish Grocer the UK chocolate confectionery market was worth £3.4bn in the 12 months to 12 January 2013.
"Thanks to an assortment of new product development and the rise in night-in occasions, the chocolate market is continuing to grow and chocolate sales are up 5.2% in value this year," she said.
But various sharing-sized packs and formats are well ahead of the overall chocolate market performance. Bagged chocolate lines are now worth just under £370m and showed year-on-year growth of just under 16%, more than three times the overall market figure. The block chocolate sub-category, or 'tablet' chocolate as Mondelez calls it, including large chocolate blocks, is growing at an even faster year-on-year rate – up 20.4%.
Quoting another major market research firm, Kantar Worldpanel, Nash said sales figures for evening consumption of combined snacking categories had reached £5.6bn – with chocolate taking top spot and biscuits running second.
Kantar Worldpanel sees what we often describe as 'big-night-in' evenings as planned occasions but it also asks consumers about their less-planned, informal night-in consumption too.
It's interesting, of the planned gatherings the largest number 1.3bn are taken up by family activity. Adult occasions – house parties, dinner parties, girls nights and the like – are fewer but are growing fast, at around 6.5% a year.
Rival confectionery giant Mars Chocolate also stresses the importance of home entertaining and socialising, not least to retailers north of the border.
Bep Dhaliwal, trade communications manager at Mars, said: "The big night in remains one of the most important trends for retailers with the bitesize category worth an incredible £67.7m in Scotland alone."
Quoting IRI figures, Mars Chocolate said that in 2012, sales of sharing bag pouches increased by 27%. "The chocolate market continues to be one of the most important categories for retailers, offering unrivalled opportunities to increase sales and capitalise on a market that is worth an amazing £3.5 billion," the firm said.
So how, according to the chocolate manufacturers, should retailers make the best of big-night-in sales opportunities?
At Mondelez International Susan Nash said that as chocolate, crisps and soft drinks were all popular for night-in consumption the firm recommended that retailers feature top-sellers from each of those categories in special big-night-in bays.
"Based on sales data we would recommend retailers dedicate 52% of the fixture to confectionery, 26% to savoury snacks and 22% to soft drinks," she said.
"Retailers should ensure that displays are prominent and well-stocked towards the end of the week to capture top-up shops before the weekend when the big night in is likely to take place."
Mars Chocolate argues that store space is often limited for independent retailers, making it vital that every fixture makes a significant contribution to revenue.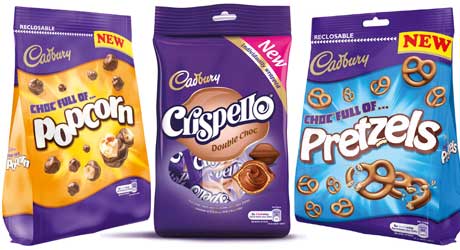 Retailers should implement secondary confectionery sites through the store to encourage impulse purchases, the firm told Scottish Grocer. A permanent secondary site should always display the bestselling lines in its product category, and strategic, eye-catching point-of-sale materials can play a valuable role in highlighting key activities and seasonal opportunities.
While confectionery is important to big-night-in sales there are other sectors which are closely connected to at-home socialising and leisure.
Hot snacks supplier Kepak is another firm that stresses the opportunities the big night in brings. And it figures the rising cost of dining out, and of takeaway meals, gives c-store retailers the chance to grab consumer cash that was once spent on pizzas and curries. That's especially true, it argues, for stores that serve young adults who, it reckons, want their big-night-in eating and drinking options to be quick, easy, informal and affordable. "People enjoying a night in, whether it's a few drinks with friends, watching a film or playing the latest computer games, want tasty, filling snacks that don't interrupt what they're doing," said Angela Daulby, channel director for Kepak Convenience Foods.
The firm has been busy adding to its established 'Originals' range of Rustlers Quarter Pounder, Rustlers Chicken Sandwich and Rustlers BBQ Rib by developing new products and campaigns intended to take foodservice concepts into retail. It says the policy has worked well so far, with Rustlers Hot Subs and Hot Wraps achieving sales of more than £37 million since launch. It has also been busy developing its Zugo's Deli Café range, widening its new product development activity, boosting advertising, and carrying out sampling drives.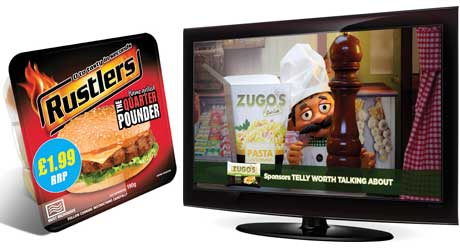 The firm argues that its lines aren't only convenient for consumers but easy to manage for retailers' too.
"As the economy continues to make life tough for retailers, there is a rising trend for products with a longer shelf-life, resulting in less waste. Kepak products have a longer shelf life than many sandwiches, pies and pasties, so keeping them in stock will result in less waste and is ultimately more cost-effective," Daulby said.