WHEN it comes to choosing what to spread on our toast, we Scots want jam today, and perhaps other things tomorrow – especially honey and chocolate spread. According to Kantar Worldpanel, the sweet spread category in Scotland is now worth £39.5m. It is growing at 12.6% a year, almost twice as fast as the GB rate.
Kantar Worldpanel business unit director Mark Thomson identified honey as the main winner in Scotland, up 25.8% compared to last year. Chocolate spread is also up –16.7% year on year. However the higher proportions of total sweet spread sales taken by certain products in Scotland than in GB overall should be be treated with caution. Scots customers are 70% less likely to buy malt extract than shoppers elsewhere in Britain, and that skews the percentages for other sectors.
We remain a brand-loyal nation, with 63% of Scots spend going on the branded lines, versus 59.9% at a GB level, where take-home sweet spreads are worth £432.6m. The average shopper will purchase a sweet spread 10 times through the year and spend on average £17.94, an increase of 60p over the past year.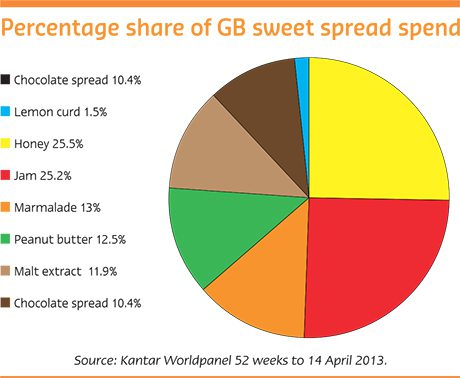 • "The spreads and preserves category presents a fantastic profit opportunity, with 91% of the population buying into it over the last year," said Nigel Parrott, commercial director of Hain Daniels' grocery division, quoting Symphony IRI figures. The company acquired Sun-Pat and Gale's honey as well as the Hartley, Robertson and Frank Cooper brands in October.
Symphony IRI reports peanut butter as the fastest growing sub-sector in the spreads category, with year-on-year value growth of 12.5%. Sun-Pat, with a 28.5% value share of the market, reports rises in both penetration and purchase frequency over the last year as customers look for a savoury alternative for their morning toast.
Gale's honey is also doing well. Parrott added: "With consumers becoming increasingly health conscious, the use of honey has been extended far beyond breakfast. Many consumers are now using honey as an alternative sweetener in hot drinks, or eating it with yogurt as a healthier dessert."
Hartley's Jams, also owned by Hain Daniels, has positioned the brand as 'just premium enough'. Parrott explained: "As well as being a trusted brand for everyday, family consumption, it's also premium enough for consumers looking for an indulgent jam to serve when, for example, hosting overnight guests."
For economical shoppers there are price-marked and added-value packs. Hartley's Best jam (strawberry, raspberry, blackcurrant and apricot) is available in a £1.49 PMP. The same four flavours of Hartley's No-Bits jam will feature 33% extra free, offering 454g for the price of 340g.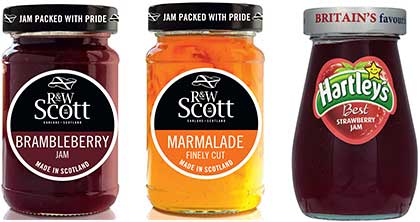 • Scottish company R&W Scott has jazzed up its jam and marmalade ranges with new recipes and label designs which underline the company's traditional production methods and historic links with Lanarkshire's fruit farms. Later this year the Carluke-based manufacturer will launch of a new premium 'naturally sweet' fruit jam range.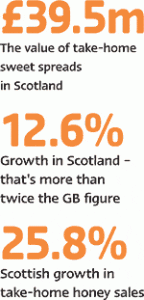 Its reformulated 340g Scottish Favourites range now includes no-added-sugar strawberry jam and orange marmalade. The fresh packaging design emphasises the product's Scottish heritage; a distinctive black lid features the strapline 'jam packed with pride' beside a Scottish flag and wraparound label promoting the brand.
The RRP for the Scottish Favourites range, is £1.39-£1.59.
A new super-premium product, made with 100% fruit, will be launched later in the year. To be called the 'Naturally Sweet' range, it will feature strawberry, raspberry and apricot jams, as well as marmalade.
Managing director John Easton commented: "Our jams and preserves have been enjoyed by consumers for generations and, as one of Scotland's legacy brands, it's important that our products remain relevant to today's consumer.
"We have been working on the enhancement of our portfolio for some time. The preserves category is crowded therefore it is important that our products not only stand out but stand the test of time."
He continued: "The new premium packaging designs better represent R&W Scott's values and show that we are innovators in the industry."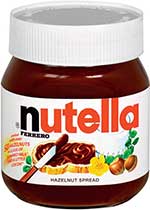 • Nutella owner Ferrero put the increase in sales of chocolate spreads largely down to its advertising campaign positioning Nutella as a breakfast item.
According to Nielsen, the brand is now worth £31.8m in the UK.
Levi Boorer, the firm's customer development director commented: "Nutella is a key part of Ferrero's growth strategy; it's a unique product that has become a firm favourite with families at breakfast time, growing by 31% over the past three years to become the UK's number one sweet spread.
"Despite this, sales in the UK only account for 2.2% of Nutella's global sales. We have 18.9% penetration of the UK market, while in France we have 53.5% penetration of a similarly sized population."
In time, Ferrero hopes to have a similar penetration in the UK.
"We will be investing heavily in Nutella, with £4m dedicated to advertising alone. This sees us compete with the cereal heavyweights in terms of our media spend.
"Our 'Wake up to Nutella' campaign has already connected with mums, and by continuing to reinforce the message that Nutella is a hazelnut spread with cocoa, which has real benefits at breakfast, we can further accelerate category growth."
The average shopper will purchase a sweet spread 10 times through the year and spend on average £17.94, an increase of 60p over the past year.