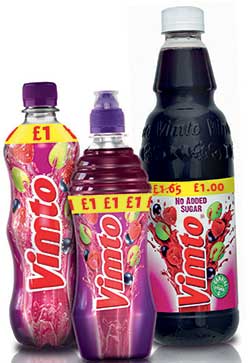 VIMTO is returning to TV screens this summer, supported by increased social media and digital activity. Its key lines for c-stores are the 500ml still and fizzy RTDs, both available as PMPs. Nielsen reports Vimto fizzy 500ml RTD PMP growing at 16% year-on-year and Vimto still up 27%.
Emma Hunt, marketing manager at Vimto commented: "Increasingly consumers are looking for healthy choices and the Vimto No Added Sugar range provides a healthier option for those who love the unique fruit-flavoured taste of Vimto. All growth in squashes has come from No Added Sugar, which shows its rising popularity and the increasing appeal of healthier variants."
Vimto is planning a push for its Levi Roots tropical range to coincide with barbecue season. Its Mango and Pineapple flavour has been renamed Tropical Punch to build on the brand's Caribbean identity.
• Pepsico's chilled juice brand, Tropicana, is giving consumers the chance to win cash in every minute of the morning. Underlining the brand's health message, the promotion links winning a fiver with drinking Tropicana at breakfast – and ticking off one of your five a day.
With 55% of consumers leaving home without breakfast and looking for something quick and nutritious, NPD Crest calculates that breakfast on the go delivered £50m in additional juice sales last year.
Tropicana's Sioned Winfield said: "This simple and compelling promotion will attract new shoppers to the chiller."