SOCIAL occasions with friends and family provide the perfect opportunity for retailers to drive extra sales of food and drink meant for sharing, such as soft drinks, snacks and confectionery. And making the most of the big night in can really pay off, says soft drinks supplier Coca-Cola Enterprises.
The firm's trade communications manager Dave Turner told Scottish Grocer soft drinks are present at evening meals in one-third of all households in Great Britain and 90% of Coca-Cola consumed in the home is with food.
Big nights in and similar occasions mean impulse outlets need to stock some take-home and multi-pack options as well as instant consumption packs, he argued.
"CCE's Chilled+ initiative uses cutting-edge software to review retailers' ranges against the national best-sellers and their own top performing SKUs," Turner said.
"After analysing the results, we can then recommend a tailored planogram of products best suited to a store."
Turner also highlighted CCE's work in recent years with Diageo which has sought to build awareness of spirits and mixers for at-home events.
Among its own products it sees big-night essentials as its Appletiser and Grapetiser adult soft drinks, its c-store large sizes and multipacks of the Coca-Cola range – including the new 1.75l, the 1.25l and 4 x 330ml, its two-litre bottles of flavoured carbonates such as Fanta, Sprite and Dr Pepper, its Schweppes mixer range, and its Ocean Spray juice and juice drinks range.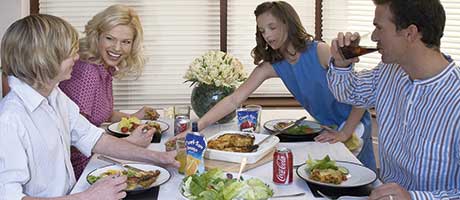 Amanda Grabham – head of marketing for Shloer, said to be the biggest selling adult soft drinks brand in Scotland, said HIM research showed around a third of shoppers surveyed said their main reason for visiting their convenience store was to purchase soft drinks; and almost a quarter (22%) said they wanted to be able to buy premium soft drinks for the night-in occasion.
The survey also suggested that 29% of convenience store shoppers don't drink alcohol.
Grabham argued that Shloer is a must-stock for convenience retailers catering for night-in purchases because it takes a 40% share of adult soft drink sales in Scotland, is grape-based and is packed in a 75cl bottle, which makes it a clear adult soft drink alternative to wine for meals and social occasions, and it's being backed by £16m worth of marketing support this year.