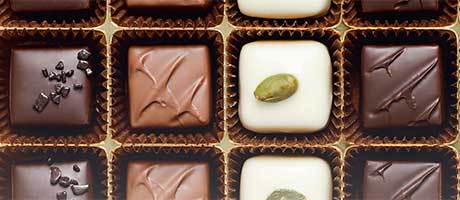 CHOCOLATE. Is there anything it can't do? It's high in antioxidants, a natural anti-depressant, and contains theobromine, which kills the bacteria which cause tooth decay. It's good for retailers too – the chocolate market in Scotland is worth £400m a year.
"Despite tight household budgets, chocolate continues to be a popular purchase with all ages, profiles and genders," said Jonathan Summerley, purchasing director at cash and carry and sweet wholesaler Hancocks. "Nobody is going to give up on such an adored and affordable pick-me-up.
"However, shoppers are certainly more price-aware these days and will look for and be more open to better-value purchasing options in order to enjoy their fix."
The sector's growth is being led, according to Nielsen figures, by blocks which are growing at 11.5% and multipacks, up 61.8%.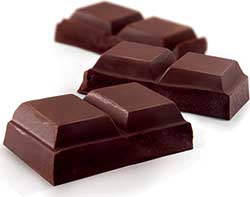 The drive for value is, Summerley added, the main factor shaping the market today. "While branded chocolate countlines are finding it hard to compete with discounted multipacks from the larger chains, larger branded £1 bars have proved to be strong sellers for smaller retailers as shoppers see the value in buying such a quantity. Strong displays by the till points can work wonders."
In other environments, it's the up-market ranges with salted caramel or dried cranberries that shoppers can't resist. "In certain stores, the premium chocolate market is buoyant. What level of chocolate to stock in your store is clearly dependent on the profile of your shopper and you should seek to understand this fully in order to maximise your potential," Summerley said.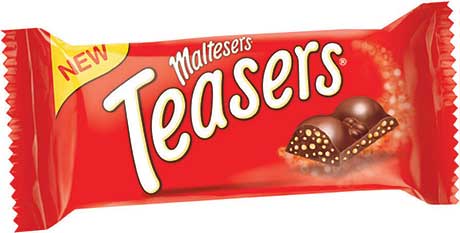 Adding lesser-known names to the mix can, he suggested, be to the retailer's advantage.
"Hancocks stocks a wide selection of different, exclusive and own-label chocolate products. These often provide a better retail price for the shopper combined with a higher margin for the retailer – a winning combination for cash-strapped shoppers. Retailers don't have to offer one or the other either. Different price points provided by different ranges will help to satisfy a much wider audience."
As customers retrench and seek the reassurance of the familiar, new product development is limited.
"Chocolate innovation is relatively safe at the moment," Summerley noted. "It is all about brand extensions into different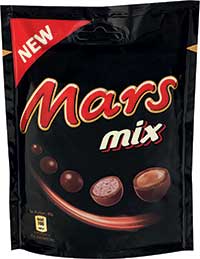 formats and limited editions. Not everything works but retailers can gain from the noise that is made around a new product during its launch.
"It would be good to see some more ambitious innovation in the chocolate market as this is what will drive it forward and keep it exciting. However I would anticipate that in the near future, the big manufacturers will continue to focus heavily on marketing their key brands and stretching them as far as they can."
Summerley singles out the Maltesers Teaser bar as a successful example of a brand extension, saying that initial sales look "promising".
The Teaser bar, launched by Mars at the end of March, is a block-ball hybrid. Available in single and sharing formats, it is the first major new product from the company's new £6m research facility in Slough.
Bitesize is another way Mars is extending its major brands. Mars Mix is a sharing format of the Mars Bar: nougat and caramel balls covered in milk chocolate.
In the same vein, Mondelez has extended the Cadbury Dairy Milk range – the UK's top selling milk chocolate according to Nielsen – with two new varieties.
Marvellous Creations jelly popping candy shells mixes popping candy with jelly and candy pieces, and wraps it all up in Cadbury Dairy Milk.
Marvellous Creations cookie nut crunch combines sweet and salty tastes, with biscuit pieces, crunchy nut caramel and chopped roasted nuts. Both come as a 200g block and a countline.
Marvellous Creations is backed by a £7m marketing push, including TV ads and billboards, as well as sampling and social media.
Matthew Williams, marketing director at Mondelez International, said: "Our chocolate creators have tried and tested all manner of crazy concoctions. We left no stone unturned in our quest for the most marvellous combinations we could find, and we think we've found the magic formula with jelly popping candy shells and cookie nut crunch."
Both blocks have an RRP of £2.49. Cookie nut crunch comes in a case of 12, jelly popping candy shells comes in a case of 14. The 47g bars, RRP 59p, are in cases of 24.
For the patriotic chocolate fan, House of Dorchester, the premium British chocolatier, has added a new Scottish range to its souvenir and gift selection.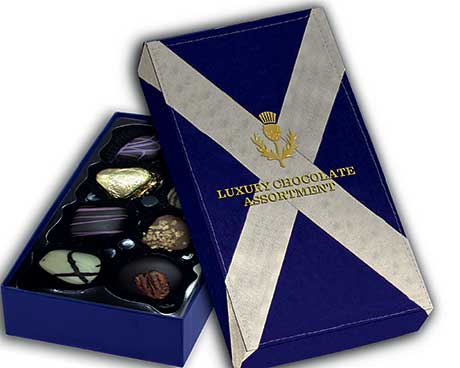 Saltire, featuring the Scottish flag, is manufactured especially for the tourist market. A milk chocolate pictorial pack has five milk chocolate slims packaged to celebrate Scotland's heritage and identity. (RRP £2.99). There is also a chunky milk chocolate bar featuring the Scottish flag (RRP £2.55) and a 100g box of luxury chocolates presented in a Saltire box, with an RRP of £6.49.
A third of UK consumers think tray chocolate is poor value for money, according to research firm Mintel. The analyst says price is the number one factor for 65% of British chocolate purchasers and half claim to buy their chocolate on promotion. Almost a quarter say they would eat more chocolate if it was less expensive.
Milk remains top of the chocs, with 57% of British chocolate eaters having eaten milk chocolate in the past six months. Dark is a favourite for one in four, while just 7% opt for white.
It's older consumers who gravitate towards the dark side: 38% of over-55s prefer dark, compared with just 16% of under-34s. Health reasons could come into play here, as four in 10 British chocolate eaters believe dark is healthier than milk or white and 16% look for chocolate with higher cocoa content.
Overall, less than a quarter (22%) of choc eaters look for healthier chocolate choices while slightly more (24%) say eating chocolate makes them feel guilty.
There are some colour-blind consumers – 13% of chocoholics have no preference over flavour. Others want their chocolate on the wild side. Mintel found one in five looking for innovative tastes such as chilli or wasabi in their chocolate.
Despite the growth of sharing bags, the individual bar remains the nation's favourite way of eating chocolate, with almost three quarters of Brits indulging over the past six months.
Half of all female chocolate eaters eat chocolate as a comfort food compared with just one in three men.
And if proof was needed that chocolate is an essential, not a luxury, Mintel found that over half of Brits would still buy chocolate if the price went through the roof. They would just indulge less often. A die-hard 24% wouldn't change their buying habits at all, 15% would switch to a less expensive brand and just 4% would stop buying it altogether.