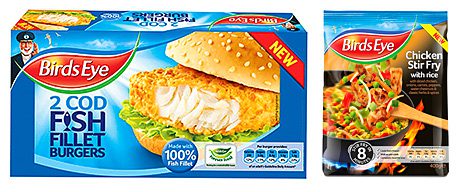 A new product from Birds Eye, Fish Fillet Burgers, is designed to encourage teenagers to eat more fish.
Bigger than a fish finger but less grown-up than a whole fillet, the substantial burger – available in cod and omega 3 varieties – sits somewhere inbetween.
Gayle Humphrey from Birds Eye commented: "The new Fish Fillet Burger provides a fantastic teatime solution that answers a genuine demand for wholesome and nutritious fish products that teens – and the whole family – can enjoy. We're confident this innovative new product will therefore help to increase teen fish consumption and provide a boost for the whole category."
RRP is £2.49 for a pack of two.
• The company has also launched three new frozen stir fry meals: Chicken Rice, Thai Prawn Red Curry and Beef Noodle. Conceived as a more convenient and upmarket alternative to existing frozen stir fries, the range comes in a colourful package with windows to show the ingredients inside. RRP is £2.69
Images – Birds Eye has launched a new product for teenagers who have grown out of fish fingers, as well as three upmarket frozen stir fry meals.