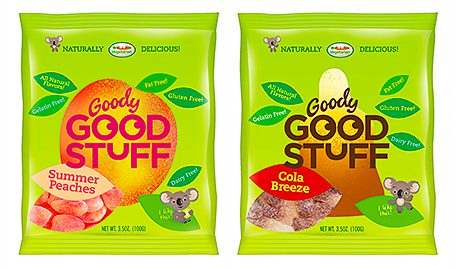 WHEN kids shop for sweets, many are drawn to products that are colourful and interesting.
And while some are attracted to extreme flavours, children have their own individual palates and show different attitudes to new products – some are willing to experiment with different tastes, others are fussy and want a taste of the traditional.
So it's essential, argues Melissa Burton, managing director of Goody Good Stuff, for retailers to offer a range of confectionery that's "visually appealing and responsive to the varied tastes of children".
Sour sweets are currently among youngsters' favourites. In response to the trend, Goody Good Stuff recently added two new lines to its range – Sour Cheery Cherries, and Sour Koala Gummy Bears, both available in 25g packs.
But it's important for store operators to realise that parents will often shop for confectionery for children – as opposed to kids shopping for themselves, Burton said. And with that in mind retailers should feature 'healthier' options on confectionery shelves, including, she suggested, natural and "free from" ranges, such as those produced by Goody Good Stuff.
Small pack sizes also have a part to play because they make it easier for parents to control portion sizes, and are more user friendly for kids themselves..
"It's all about the shopping experience with the younger market," she said.
"Smaller packs are ideal to monitor portion control and also enable parents to include the confectionery in children's lunchboxes."
The Goody Good Stuff range is gelatine-free, suitable for people following halal, kosher and vegetarian diets, and free from gluten, dairy, soy, eggs, nuts and wheat.
The firm has recently introduced a multibag for wholesalers and independent retailers – Kobi's Party Mix – which contains 32 x 25g packs. Flavours available include Summer Peaches, Cola Breeze, Sour Cheery Cherries and Sour Koala Gummy Bears.
Images – Goody Good Stuff sweets are now available as part of a multibag for wholesalers and independent retailers, which includes Summer Peaches and Cola Breeze flavours.