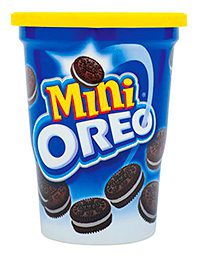 OREO, from Mondelez International, the world's biggest-selling biscuit, has a number of packs designed to suit the nation's lunchbox fillers.
Last year the firm launched Oreo 2 Biscuit Snack Packs, in Original and Chocolate Crème varieties, which the firm says fit snugly in all types of lunchboxes. It's available in multipacks
And Mini Oreo is also available as a multipack containing six, 25g snack packs.
Ferrero has just launched Kinder Chocolate with Cereals, a crunchy new style in its Kinder Chocolate range, which it suggests is ideal as an after-school snack.
The new bar features Kinder chocolate, five different cereals and no artificial colours or preservatives. It's a more substantial option than Kinder Chocolate, intended to keep kids going after a busy day at school, and is available in single packs with an RRP of 35p and in four-packs with an RRP of £1.35. PMPs will be available for impulse outlets such as convenience stores.