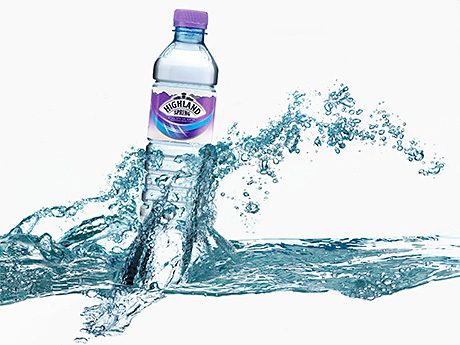 TAPS across the nation are in danger of rusting over as sales of bottled water continue to show recession-defying growth. Kantar Worldpanel figures, quoted by Highland Spring, show that two-thirds of GB households now buy it at least once a year, with regular customers buying bigger packs more often.
Almost half of shoppers buy unflavoured water at least once a year. In volume terms, unflavoured water is the number two soft drink in the UK behind cola.
Claire Wilson, marketing manager at Highland Spring said: "With the continued economic constraints, we expect shoppers to use smaller stores more often for 'top-up' shops."
And that's good for bottled water which was one of the strongest performers among soft drinks in c-stores – one of the real winners along with energy drinks.
To push sales further, Wilson recommended including water in meal deals – which she said consumers were looking for increasingly – and merchandising for unplanned purchases.
"Retailers should keep water near other impulse buys such as sandwiches, crisps and confectionery so consumers consider it as an add-on to their purchase," she said.
"Multi-packs (12x500ml) are the rising stars of the category with busy shoppers choosing them to meet 'on the go' demands during the week."
Soft drinks firm Coca-Cola Enterprises sees the bottled waters category as especially well-placed to meet a wide variety of consumer preferences and demands – as it contains everything from low-cost waters to specialist and premium products often designed to provide extra benefits.
After some tough times the firm notes that bottled water sales have now grown in three consecutive years, largely as a result of regular purchasers buying more frequently and buying more on each trip.
Quoting Nielsen, the firm says all four of the main types of water (plain still, plain sparkling, flavoured still, and flavoured sparkling) grew. Flavoured still water was up 17%, flavoured sparkling increased by 9%, and plain sparkling grew by 10%. Plain still water, the biggest segment, grew by 8% and now takes 52% of the total category's sales.
Many of bottled waters' sales gains came from people switching from squash, cola, juice and juice drinks.
However, penetration (the proportion of shoppers or households that actually buy the products) is currently only at the level achieved four years ago. So there is an opportunity to sell more by attracting new purchasers, says CCE.

Images – Top, Highland Spring, says its flagship brand grew ahead of the water category in 2012, increasing volumes by 9.3% to around 198m litres. Above, Glacéau vitaminwater, from CCE, which saw sales grow by 34% to £16.5m last year, has been reformulated with stevia, shaving off 30 calories per bottle. All eight of the waters also have a revised blend of vitamins and minerals.