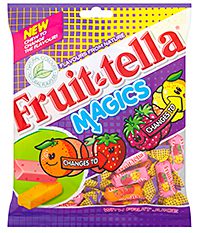 CONFECTIONERY company Perfetti Van Melle is targeting youngsters who are looking for a change.
Its Fruittella Magics change flavour in mid-chew, switching, for example, from orange to strawberry, or from raspberry to lemon.
The sweets firm says it's pitching the product at kids and teenagers who are "looking for surprise, mystery and flavour sensations in their sweets".
The new sweets are available in: single stick size, RRP 44p; multipacks, RRP £1.28; and bags, RRP £1.25.
Fruittella Magics will be supported by a national TV campaign and with samples in magazines.
David Leal, brand manager for Fruittella and Chupa Chups said: "Kids and teens are always looking for new sensations in confectionery and Fruittella Magics bring a new dimension to their enjoyment."
The wider Fruittella brand has also been revamped across all flavours and formats.