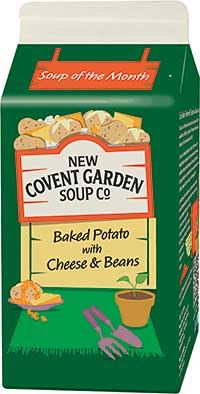 BAKED potato with cheese and beans might be an unlikely flavour for a soup but New Covent Garden Soup Co is convinced it's a winning combination.
"It's a well-loved British favourite," said Rob Dixon, marketing controller, Hain Daniels Group. "Most consumers will be familiar with this mouth-watering flavour combination, but the idea of enjoying it in soup form is something completely new that will have shoppers flocking to the soup fixture."
"It perfectly meets consumer demand for hearty, comforting food as they wait for the last vestiges of winter to fade away," he added.