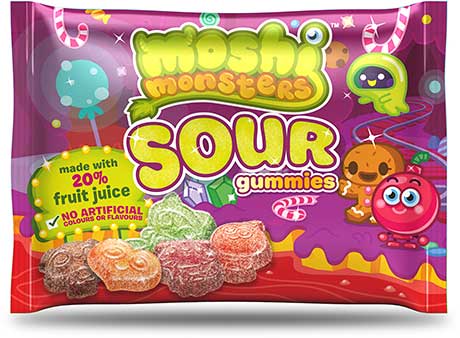 KIDS increasingly enjoy the challenge and "extreme fun" of sour sweets, says Bazooka Candy Brands. To cater for the trend the firm has added Moshi Monsters Sour Gummies to its range.
The sweets are available in a 45g single serve, RRP 50p and a 120g £1 price-marked sharing bag.
Based on 12 of the Moshlings from the online Moshi Monsters universe, the sweets are available in a selection of flavours – strawberry, cherry, apple, cola, raspberry and orange – and contain 20% fruit juice.
Bazooka's original fruit gummies Moshi Monsters range launched last year.
Sarah Burrow, marketing director at Bazooka Candy Brands said: "The range really captures kids' imaginations and is a way of bringing the online offline."
Sour flavours are something the firm k
nows that today's generation of kids love and Moshi Monsters Sour delivers the taste they're after, she said.