SKITTLES, Wrigley's chewy fruit confectionery brand, has a new variety with a bit of Willy Wonka about it. Skittles Confused are designed to keep customers guessing because the colour of the sweet does not match the flavour in the mouth.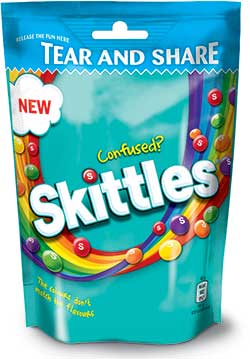 The Confused line is part of a £5m relaunch. The full range – Skittles Fruits, Skittles Crazy Sours, Skittles Crazy Cores – also has a new look, with the rainbow on the packaging looping under the name rather than over it.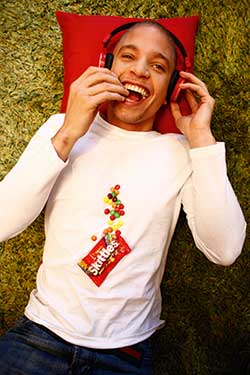 To get consumers used to the idea of a lime-flavoured sweet that is bright pink, this month Skittles Confused will be backed by a major marketing push with a £3m TV ad campaign, in-store activity, street sampling and digital and social media activity.
Matt Austin, Wrigley Confections business unit director, said: "Some 10m Skittles are already eaten every day in the UK, and this re-launch is going to excite retailers and consumers alike.
"Research tells us consumers want more from their sweets. They want entertainment and that's exactly what we're giving them. With Skittles Confused consumers will be expecting the unexpected with every chew, while the only thing retailers can expect is greater sales and profits."
• A recent study in China found that consumers who bought their gum in bottles chewed twice as much every week. To that end, Wrigley has introduced a new 46-pellet bottle, designed for the car or desk. It's available in Airwaves Menthol and Eucalyptus, Extra Ice, Peppermint and the renamed Extra White, formally Extra Ice White. RRP is £1.99.