OVER the years some of Britain's favourite chocolate confectionery products have been named after stars, planets and constellations. But that doesn't make the selling of sweets rocket science.

In fact the companies who produce and market the main brands often say making the best of confectionery isn't difficult at all; it's about getting the basics right.
However, retailing does share some things with astrophysics … in many ways they're both about time and space.
And for the people at Mars (the chocolate manufacturer) time is becoming more important to chocolate sales.
Perhaps it's the economic hard times but even though people are supposed to be "time-poor" the chocolate firm reckons shoppers now spend more time than before thinking about what they want to buy, and may even be spending more time in stores.
That provides an opportunity for retailers to get to know their customers and their preferences, likes and dislikes better. It also gives good reasons to make sure in-store displays, including those in areas devoted to confectionery, work best for both retailer and consumers.
And the giant confectionery firm stresses that it's important to address the basics.
Those include ensuring a store's main confectionery area is well-positioned and effectively merchandised and making sure that sites in other parts of the store where confectionery can be used to encourage impulse purchases are also used to best effect.
The Mars Chocolate advice is that bestsellers should be placed in the best positions on shelves, and products should be grouped together by category rather than by brand or manufacturer. Retailers should regularly evaluate their ranges and should consider delisting products that are performing poorly.
Installing extra confectionery display equipment, especially in those parts of the store that attract the most consumers, will increase the chance of making profitable impulse sales, the firm says.
Sharing-sized bags provide particular opportunities. Quoting IRI data, Mars says sales of sharing bags have increased 27%. Importantly the research suggests that 31% of purchasers had decided to buy confectionery packed in pouches after they had seen it on a store visit. So, it would seem, the better the store position of the item, the more prominent it is, the more likely that a sale will be made.
Mars Chocolate UK trade communications manager Bep Dhaliwal summed up the firm's thinking and said: "Retailers have an opportunity to interrupt shoppers and encourage increased basket spend by concentrating on their main display, introducing secondary siting and creating points of interruption and in-store theatre."
Mars recently introduced limited-edition Snickers products – More Nuts and More Caramel. It also added Galaxy Counters in a single pack to its countline range.
The firm's Easter range for 2013 includes – MaltEaster bunny; Mars Galaxy Bubbles filled egg, chocolate caramel-filled egg and caramel filled eggs; Ripple medium egg; Minstrels and Indulgence large eggs; premium indulgent collection egg; M&Ms eggs, Mars and Maltesers medium and large eggs; Celebrations luxury egg; and a range of Maltesers and Celebrations boxes.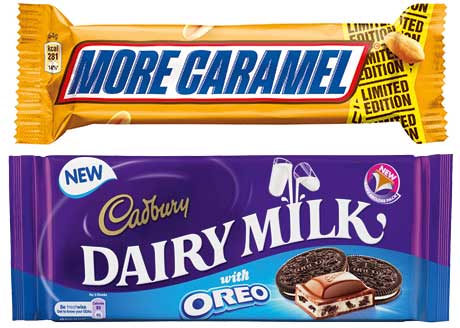 Mondelez International has introduced a gift range which it says is ideal for traditional chocolate-giving spring occasions but also versatile enough to be on retailers' shelves all year round.
The range includes heart-shaped boxes containing Cadbury milk chocolate heart-shaped pralines, and flower-shaped boxes containing Cadbury milk chocolate flower-shaped pralines.
Each shape of box is available in 48g or 180g packs, said to be ideal for Mother's Day gifts, or as general gifts.
The firm says the introduction of the products follows on from the success of its Say it with Cadbury range of boxes designed to be used as gifts. Mondolez International UK trade communications manager Susan Nash said the Say it with Cadbury range was most popular with shoppers under the age of 35, which she argued demonstrated "the ability of the brand to broaden the appeal of in-laid boxed chocolates beyond its traditional heartland of older shoppers".
The firm sees what it calls the "thank you" gift market in the UK as worth £313m, with Mother's Day gift sales worth £386m.
For Easter, specifically, Mondelez says its range includes traditional Easter favourites.
But its large shell eggs have been given a new look and it has introduced a new product – Egg n Spoon.
For Easter 2013, products for immediate consumption and eggs for adults are high on the agenda for Nestlé Confectionery.
Nestlé UK trade communications manager Graham Walker says sales of Easter chocolate confectionery account for 30% of seasonal sales across the year.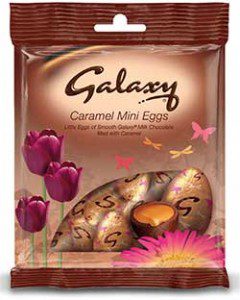 Novelty seasonal products help direct shoppers to the seasonal chocolate section, he reckons, and help get consumers interested in Easter early.
In its seasonal impulse range for 2013 is the Milkybar bunny, Smarties Little Choc Chick, Aero milk chocolate lamb, Milkybar mini eggs, and Smarties mini eggs.
Its range of large eggs includes After Eight, Aero Bubbles peppermint and Rowntree's Randoms.
The firm has also assembled a selection of giant eggs, including Kit Kat Chunky, Aero Selection, Caramel Collection and the After Eight premium egg. And there's a range for teens, including Yorkie, Lion Bar and Munchies eggs.
There's also a range aimed specifically at kids. It includes Farmyard eggs from Smarties and Milkybar, the Smarties Spring Animal pack and a Milkybar small egg.
[hr_dotted]
• Chocolate market worth £3.5bn
• Mother's Day gift-giving market worth £386m