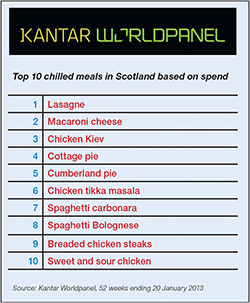 COMFORT food and familiar dishes are what keep Scottish consumers coming back to the chiller cabinet.
According to leading market research firm Kantar Worldpanel, Scots spent £301m on chilled ready meals over the past year, with lasagne and macaroni cheese the nation's favourites.
Across Great Britain, the chilled ready meals market is worth £2.6bn, an increase of 8.3% over the past year. Households spent an average of £109 on ready-made pasta, curry and Chinese dishes. That's an annual increase of £7.40.
The Scottish market, worth £301m, is growing faster than the market across Great Britain as a whole, increasing by 11.9% last year.
More Scottish than English shoppers buy chilled ready meals: 95% of households purchased at least one last year, compared to 90% across Great Britain. North of the border each household spent £11 more on the category than down south.
Deals are important. In Scotland, with 88% of shoppers looking for a special price, compared with 80% across GB. Some 43% of the GB-wide spend on chilled meals goes on products that are on some kind of deal.
The most popular chilled meals are heavy on the carbohydrates such as pastas and potato-topped pies. Scottish shoppers are fonder of such old-school fillers, especially macaroni cheese, than their English counterparts. Beef and chicken-based dishes are also big sellers and Scottish shoppers buy more vegetarian ready meals than the rest of GB. Many of these, Kantar's business unit director Mark Thomson admits, are macaroni cheese – enjoyed by die-hard carnivores as well as veggies.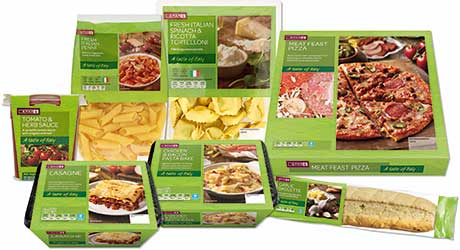 • Kerry Foods Direct To Store has added a Scottish range to its chilled food selection. The meat products (two types of pie, haggis slices, a whole haggis, sausages and a breakfast pack) are produced by Calder Millerfield – a leading Scottish meat product manufacturer. All the company's products carry 'A' standard BRC accreditation.
Richard Tyler, customer marketing controller, said: "Our new range fills a gap in the Scottish convenience market for locally produced Scottish specialities."
Price points range from £1.25 for a 225g pack of haggis slices, to £1.60 for a whole haggis and £1.92 for a pack of two steak pies, which will deliver the retailer 23% profit.