Novelty sweets will go a long way with festive shoppers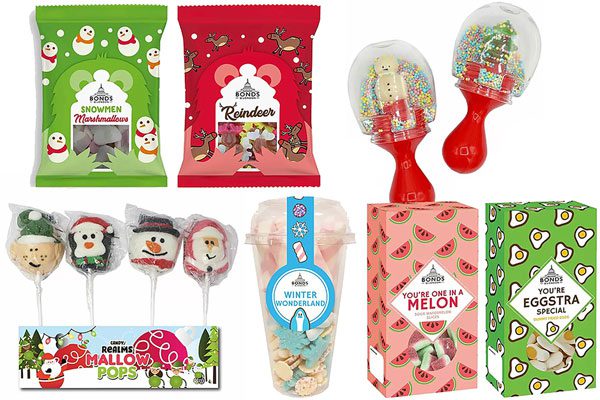 WHETHER shoppers are looking for the right stocking fillers or a seasonal treat for themselves this year, World of Sweets brand Hancocks reckons its range has consumers covered.
The confectioner has launched its festive range covering its brands, including Candy Realms and Bonds of London, aiming to capture the anticipated rise in footfall that typically comes from the Christmas shopping season.
Kathryn Hague, head of marketing at Hancocks, said: "The confectionery sector does especially well during the festive season and many of the key shopping trends around Christmas are based upon gifting, festive sweets and Advent calendars."
Aiming to capture that impulse, treat-yourself moment with consumers, Hancocks has launched new Candy Realms Mallow Pops, for an RRP of £1, which comes in four festive character shapes – Santa, a snowman, a penguin and a Christmas elf.
The range also includes the Festive Gummy Pops, Snow Globes, Festive Flash Pop, Festive Mallows, as well as the Merry Mix Candy Cup.
And when it comes to the sweets gifting or sharing opportunity then Hancocks has pointed retailers to its Bonds of London range, which has launched two new festive Candy Cups for this year.
Including Bonds Fizzy Trees, Festive Mix, Winter Wonderland and the suitable-for-vegetarians Reindeer Faces, Hague said the Candy Cups will make for a "fantastic option" as a stocking filler, gift or for sharing.
And building on the sharing opportunity in particular, Hague also noted the Bonds Festive Bags made up of Bonds Snowmen Marshmallows and Bonds Reindeer sweets with RRP of £1.25 per bag.
Finally, for the consumers looking for a more quirky gift, such as for a Secret Santa, Hague reckons Bonds Pun Boxes could prove a festive favourite this year.
Available at £2 RRP, the boxes include a variety of fun designs with pun names themed to the sweets inside such as the You're Eggstra Special box and the You're One in a Melon box.
To help drive sales and encourage that extra impulse spend this Christmas, Hague said: "Retailers should place novelty and impulse buy stands near tills to increase visibility and maximise unplanned festive purchases."