Non-alcoholic drinks brands come together to deliver a warming drink in time for National Hiking Day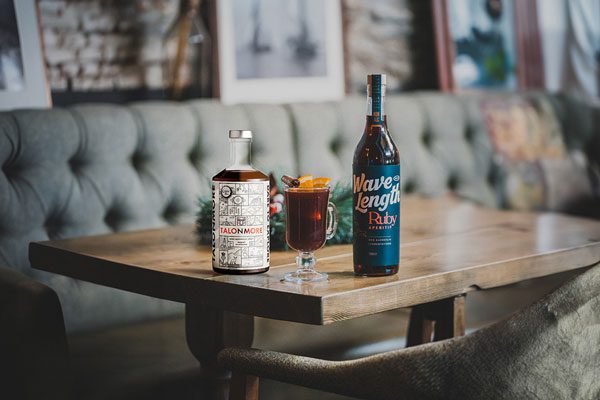 EDINBURGH-based Talonmore Drinks has teamed up with Wavelength Drinks to create a new festive non-alcoholic (NA) cocktail, the 'TalonWave Wine'.
An alcohol-free take on the classic winter warmer Mulled Wine, the TalonWave Wine combines the ginger-infused Talonmore NA spirit with the Wave Length Ruby NA Aperitif and hot water to deliver a warming option for those looking to cut back on alcohol intake this Christmas season.
Lewis Kennedy, managing director at Talonmore Drinks Company, said: "Talonmore has been a fan of the Wavelength brand for a while now.
"I've always been really interested to see if the flavours and liquid of the two brands work together and they do!
"The team at Wavelength are delightful, we hope this is the first of many partnerships."
Marking a NA cocktail option in time for National Hiking Day, which takes place Friday 17 November, the two companies are offering consumers a special bundle deal with 10% off both brands up until New Year's Day to help consumers to make this cocktail throughout the winter season.
Talonmore said the two brands support the importance of health and wellbeing with consumers, advocating for a more outdoors lifestyle with nature playing a key part in both of the brand's beliefs.
Kennedy said: "Talonmore has always, and always will be, a supporter of the outdoors lifestyle, and the importance of it for health and wellbeing.
"We're encouraging everyone to get those hiking boots on and head up that hill for National Hiking Day. We guarantee it will be worth it, with the reward of a 'TalonWave Wine' at the summit.
"The flavoursome fruitiness of both liquids match together perfectly. Talonmore offers the malty notes while the zing of Wavelength creates a conjuring of festive flavours for the tastebuds.
"Garnishing with an orange makes the serve that touch more festive. Definitely a quick-and-simple cocktail to impress family and friends over the Christmas period too."
Eddie Lofthouse, Wavelength Drinks founder, said: "We are really excited about this collaboration with Talonmore.
"The two liquids combined create a delicious drink that is perfect for winter gatherings with friends which make long lasting memories."