Vaping Retailer of the Year – Day-Today Drylaw
Winner details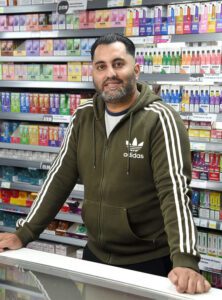 Interview with Zahid Iqbal, store owner
Staff: Eight staff members
Symbol: Day-Today
Services: PayPoint, National Lottery, hot food to go, vaping counter.
• Iqbal first introduced vaping products to his store in 2017, jumping on the trend from its early days, he aimed to offer his customers a reliable selection that they could count on whether that be in disposables or across refillable devices.
• The counter has a bespoke display of refillable vapes with a glass window that shoppers can look in on and also provides a place for Iqbal and his staff to talk through the topic with customers
• Iqbal also prides himself on being able to engage with a new challenge and this was the reason why he took on vaping from an early date, seeing it as a new hurdle he could overcome.
• As such, Iqbal believes his store is secure for the future, even with a potential disposable vape ban on the horizon, he remained confident in his store as well as his own abilities as a retailer.
Proof that vapes aren't just hot air
PASSION for your craft is a surefire way to ensure success in the business.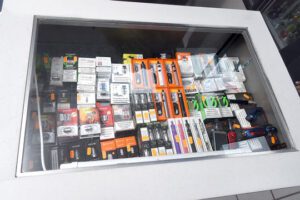 While you would be hard-pushed to find a retailer across the Scottish convenience channel who isn't dedicated to their work, going the extra mile to learn all that there is to know in a category introduces a new level of quality to your store.
And this is exactly the case for Day-Today Drylaw when it comes to the vaping category, and store owner Zahid Iqbal shows his knowledge for the sector in spades.
He said: "I started out when Vuses came out which, at the time, was a new thing for us with the pods.
"I was also looking at all these vape shops that were popping up at the time and, since we had the space, I thought, well, why not try that?
"We started off there and the first year was a bit of a disappointment and ended up making a loss when we first gave it a go.
"At this point, we had a bit of a refit for the store and so we started getting in more of the devices and set up a proper separate counter dedicated to vapes in the store.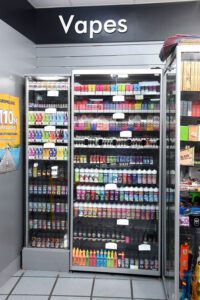 "From then on, we saw a massive turnaround and vaping began to get a lot better for us and customers started to see our knowledge, so it just started growing and growing."
Not giving up at the first hurdle has more than paid off for Iqbal as, since he chose to stick to his guns all those years ago, the store now generates an average of £15,000 in vaping sales alone every week.
It's this dedication to the sector and the reflection in store sales that impressed Scottish Grocer judges and, as such, Iqbal and his team at Day-Today Drylaw were awarded the vaping retailer of the year gong at the Scottish Grocer Awards 2022.
Consumers would have a difficulty not finding exactly what they're looking for in this store when it comes to vapes, as Iqbal ensures that whatever the customer wants, they get – whether that be in disposable options or for refillable products.
Iqbal said: "About half our vaping sales will be on disposables and the rest will be on refillables like your Vuses, Nix Salts and on the bigger devices themselves, which can go up to about £80.
"And we do see a lot of movement on these products as well, although these aren't as fast as some of the cheapest options we also stock in like the PockeX kits or the Endura T18s, which are basically starter kits, so they will start from £25.
"We aim to cover every part of vaping, whether customers are just starting out for the first time or have been vapers for years now."
Eager to adapt to oncoming challenges in this sector as well, Iqbal talked about his efforts to help switch more customers to refillable vape options over disposables, with a potential ban heading the sector's way in the future.
He said: "We would preferably sell the PockeX kit to customers over the disposables, mostly because every store has disposables now, but it's also a money thing as well.
"Customers can be paying up to £5.99 for each disposable and, while that doesn't sound like much to start out with, you could be paying about £25 for the kit and you're only paying for that once.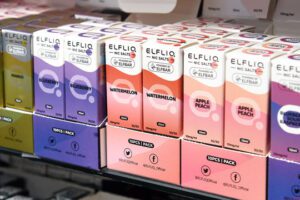 "The shopper is then saving much more money and then that customer can come back to me for coils, liquids, salts or anything else you could need.
"It's about the education here. If you just chat to the customers about this then you can help them to make sense of vaping and help them to save some money, too.
"Even with people coming in now and wanting to quit smoking, I can help explain vaping to them and help them to switch over to a product that is not as harmful for them."
Keeping on top of this complicated sector will surely pay off for Iqbal in the times to come. With plenty of speculation on the future of disposable vapes, the store owner demonstrates how his store is well prepared for any eventuality here as well as promoting other alternative solutions to disposables.
The store has recently introduced a new disposable vapes bin, an initiative that has been rolling out across United Wholesale Scotland's entire estate.
Iqbal said: "The bin has been doing well in store and we've been promoting it wherever we can on our socials.
"It can help to show that an outright ban on disposables isn't the only solution here and there is more to be explored.
"And, business aside, it's just good for the environment and builds a good impression with customers."
Even should this ban come to be, Iqbal believes his store will more than prepared for this and reckons his store set up is more than equipped to cater to his vaping customers in refillables.
He said: "Like I said, I like challenges and I believe that we're ready for the ban.
"Since it would only be on disposables, we still have a good range of pod, devices and accessories that our customers can make a lot of use of, so I believe I'm already prepared for that.
"And I'm keeping that communication going with customers now as well. I've let them know that there could be a ban on these disposable products, so I'm taking the chance to start introducing them to more refillable devices.
"But I know we have the confidence in our store as well as ourselves that, if a ban were to be introduced, then we would be OK. There's no worry here about the potential ban."