CCEP's latest Monster innovation returns to the brand's beginnings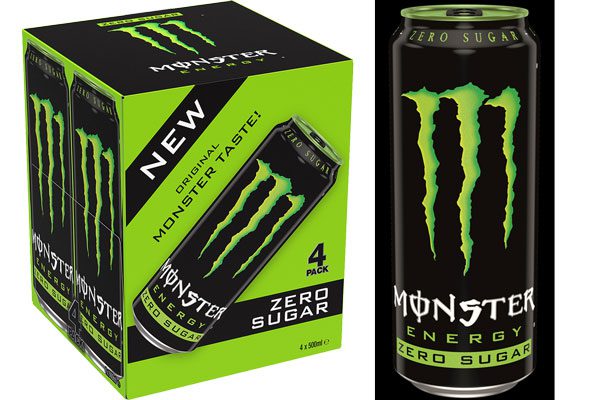 BRINGING in some innovation to a brand can sometimes mean looking back to the very beginning.
This has been just the case for Coca-Cola Europacific Partners (CCEP), which has gone back to where it all began with the launch of the new Monster Energy Zero Sugar.
Calling it the firm's biggest launch in 20 years, Monster Zero Sugar aims to offer fans of the original energy drink a sugar-free option to enjoy the classic flavour for the brand.
The new launch follows on from 12 months of strong performance for the brand, so says CCEP, which has seen Monster Energy add £94million, according to Nielsen data from June.
Monster Energy Zero Sugar is available now in the brand's signature 500ml cans in single formats or as part of a four can multipack.
Innovation appears to be the driving force behind this latest bout of success for the brand, with Monster introducing three new Zero Sugar variants in 2023 so far.
This has included Monster Lewis Hamilton Zero Sugar, Monster Juiced Aussie Lemonade and the red berry blend flavour of Monster Ultra Rosa.
Following on from the launch of the new Original Zero Sugar energy drink, Monster is also set for the launch of its new Monster Ultra Peachy Keen, which you can read about on this page.
And the new launches are clearly working for the brand as the same Nielsen data also reported that 55% of category innovation sales over the last year have come from Monster Energy NPD.
As well as providing shoppers with more choice from traditional energy drink options, CCEP said the new Monster Zero Sugar is designed to fuel more growth behind the brand overall by tapping into Monster's iconic original design, with the same look and feel as Monster Energy, to provide "maximum engagement" with fans of the brand.
Further to this, the launch also provides consumers a third way to enjoy the Monster Original flavour alongside Monster Original and Monster Absolutely Zero.
Pippa Foster, associate director commerical development at CCEP, said: "Monster Original has been a firm favourite and standout sales driver for retailers since it first launched over 20 years ago.
"With continued consumer desire for zero sugar energy drinks and the strong performance of our Ultra range as the number one zero sugar energy range in Great Britain, we wanted to create a zero sugar energy drink  that matches the iconic taste of Monster Original.
"Monster Zero Sugar has already proven to be incredibly popular in the US, so we're confident its arrival in Great Britain will bring excitement to the energy fixture and help retailers drive further sales."
Ultra gets a boost in energy
COCA-COLA Europacific Partners (CCEP) has announced the latest innovation to its Monster sugar-free range.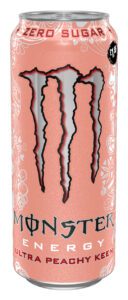 Monster Ultra Peachy Keen marks the fourth new sugar-free launch from the brand this year, following swiftly on from the launch of Monster Energy Zero Sugar in September.
Boasting a crisp, light peach flavour, according to CCEP, the new addition to Monster Ultra gives consumers a refreshing energy boost with no calories and no sugar.
POS materials are available on request to retailers, with the new cans coming in a plain pack as well as the PMP format.
Pippa Foster, associate director commercial development at CCEP, said: "More than 55% of category innovation sales over the last year have come from Monster's great tasting NPD – and we're confident that Ultra Peachy Keen will build on this success. In fact,  Monster Ultra Peachy Keen in the US has already become the number three SKU in the Ultra line-up.
"This new launch will tap into demand for zero sugar and flavoured energy drinks, so we would recommend that retailers get stocked up."