KP Snacks celebrates new McCoy's with retailer exclusive competition
KP Snacks is targeting younger shoppers with its new McCoy's Epic Eats range.
The firm says the two newcomers – Nacho Cheese and Spicy Salsa – deliver the unmistakable bold flavour of the UK's top ridged crisp brand and "promises an epic snacking experience for shoppers looking to try something new".
KP Snacks says younger consumers are significantly influenced by flavours when making purchasing decisions and reckons the new range is perfect to attract such shoppers to the category and the brand, driving penetration in the demographic.
The Epic Eats offerings are available in a 45g Grab Bag format with an RRP of £1.00, and a 65g PMP priced at £1.25.
Aiming to push excitement for the new launch, KP is running a retailer exclusive promo across Epic Eats that could see six lucky retailers win £2,000 each.
Retailers will automatically be entered into the draw when they buy two cases of McCoy's Epic Eats. A further 1,100 prizes are also up for grabs through scratch cards, including  £20 vouchers or a free case of stock.
Matt Collins, trading director at KP Snacks, said: "McCoy's is famous for its unique and dynamic flavour proposition. We're supporting our retailer partners with an exciting new product range, delivering the right flavours in the right formats to drive sales."
PMP drive with KP Snacks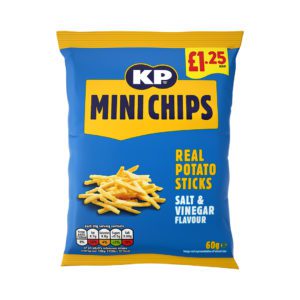 KP Snacks has added to its PMP range with two £1.25 60g format SKUs for its Mini Chips brand in Salt & Vinegar and Beef flavours.
The KP Mini Chips range has also had a packaging update, while the KP Snacks PMP portfolio has been restructured.
The changes see Space Raiders in 40p PMPs, Discos, Skips and Wheat Crunchies available from 50p, Hula Hoops and Pom Bears at 65p, and Hula Hoops Big Hoops BBQ Beef 70g packs priced at £1.25.