Highland Spring Group welcomes the First Minister and other honoured guests as its new multi-million pound rail freight facility promises to take thousands of HGVs off Britain's roads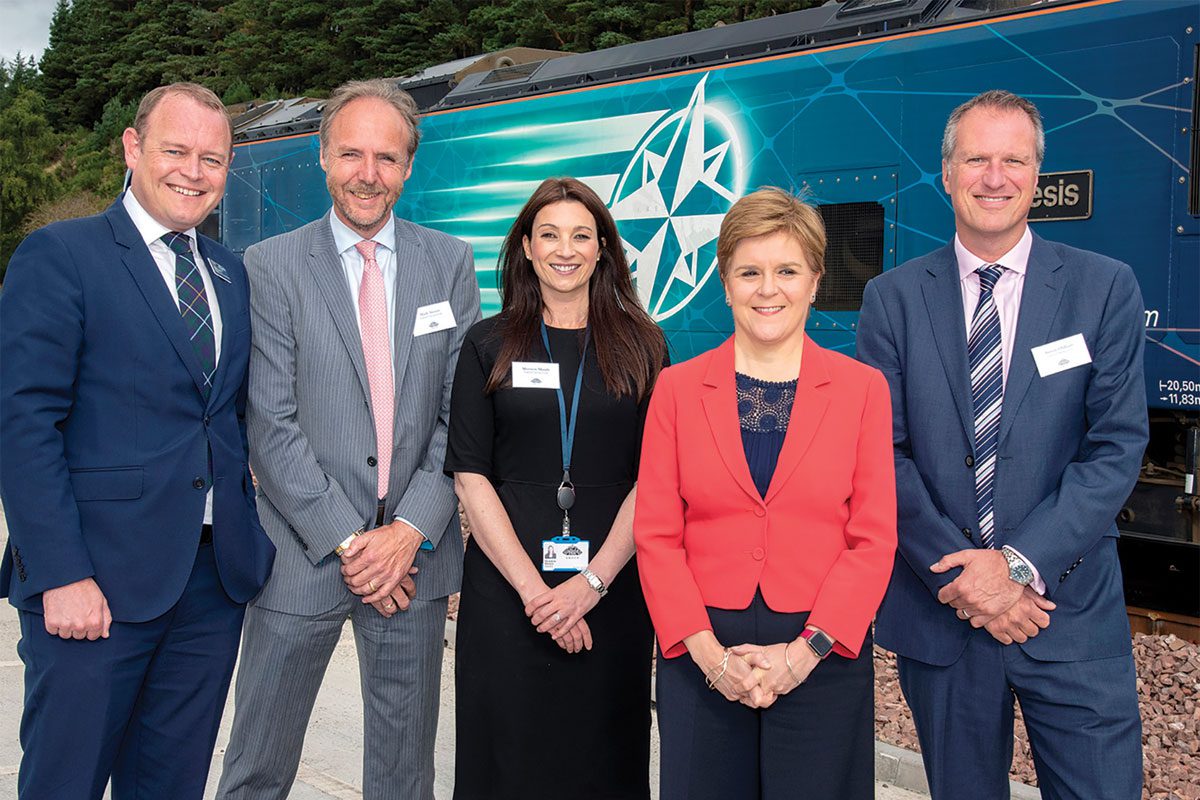 HIGHLAND Spring Group has put its Net Zero ambitions on the right track by opening a new rail freight facility.
First Minister Nicola Sturgeon was in attendance at the site's official opening event last month. The rail freight facility has been backed by the Scottish Government, which invested £4.47 million through a Freight Facilities Grant.
Situated adjacent to Highland Spring's main bottling plant in Blackford, Perthshire, the facility will allow Highland Spring Group to transport bottled water via the UK rail network, reducing carbon emissions in the process.
According to Highland Spring, its rail facility will provide long-term environmental benefits by removing 8,000 HGVs from the road, saving 3,200 tonnes of CO2 each year.
When it's fully operational, the bottled water brand reckons two-fifths of the
water supplied from its main bottling plant in Blackford will be transported by train. It's expected that the rail facility will deliver containers of water to Highland Spring's Daventry warehouse in The Midlands.
Residents of Blackford should also notice a reduction in traffic through the village, as each train can carry a load equivalent to 22 HGVs.
The project has been in development for 10 years and is part of the firm's long-term sustainability strategy.
Highland Spring Group is committed to achieving Net Zero carbon emission status by 2040.
Simon Oldham, chief executive of Highland Spring Group, said he was "absolutely
delighted" to see the rail freight project come to fruition.
"This has been 10 years plus in the making and in the last three or four years it has really come to a head. It's an enormous project with many stakeholders, companies and people involved. It's been a really great collaboration right across the board."
Highland Spring customers across wholesale and retail channels have welcomed the project, too, Oldham said, both for its environmental impact and the implications for the supply chain.
"I've never seen such engagement and excitement from the trade on a project, because they all have their own sustainability targets.
"It delivers on that for them, but also it futureproofs the supply chain.
"We know there have been challenges there, particularly around road transport, so the more product that goes on to the rail network, the bigger the safety net for them," he said.
Initially, Highland Spring's rail freight facility will be used solely for the transport of its own goods, but Oldham confirmed there is scope to work with other Scottish manufacturers in the future.
"Initially, we'll be using one train but we can add another train, and there is scope for any unused capacity to be used by other parties if they're interested down the line," he said.
The rail freight investment is just the latest in a procession of sustainability-focused projects from Highland Spring.
In 2018, the Scottish bottled water brand was the first in the UK to trial packaging made from 100% rPET – plastic that is made solely from recycled materials.
That trial proved to be a success and the rPET bottles were added as a permanent line the following year.
Oldham commented: "Whether it's the use of recycled materials, whether it's the rail facility, or our support for the deposit return scheme, at the heart of our business has always been the environment and our environmental strategy," he said.
Highland Spring also hasn't been shy when it comes to shouting about its
investment in environmentally-friendly practices, as Oldham explained.
"Whether it's been our comms or our messaging or our advertising that refers to our 100% recycled bottles or whether it's our social media, we'll continue to put the message out there that not only are we the UK's number one brand but also we're the most sustainable brand.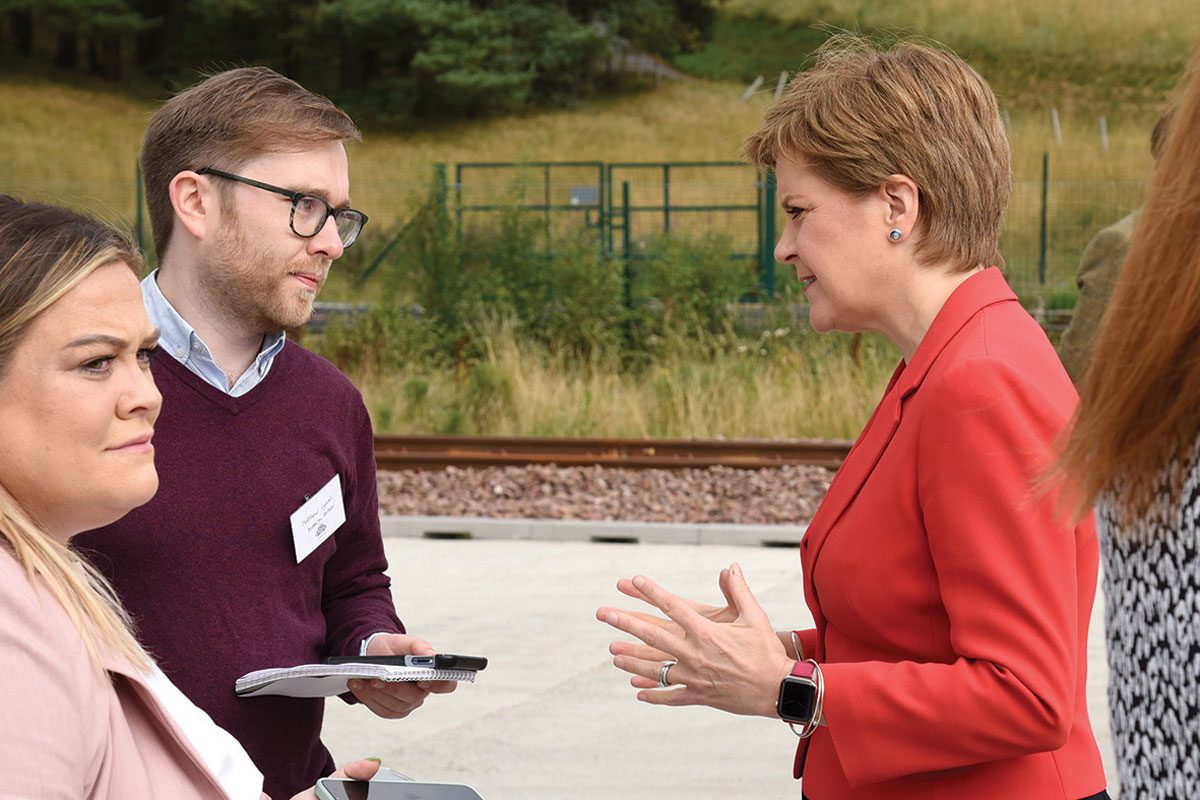 First Minister Nicola Sturgeon told Scottish Grocer that all involved with the Highland Spring rail project should be "immensely proud" and praised Network Rail, who she said played a "key role" in developing the infrastructure to support the project.
"This project has been helped by Scottish Government support so that indicates the willingness of the Scottish Government to be involved and to help businesses.
"Businesses are facing the toughest time that most of them will have ever lived through and obviously that comes on the back of the
pandemic.
"So these things are not easy but of course doing things that lower costs and reduce
carbon footprint right now also in the longer term helps businesses become more sustainable financially as well as environmentally. So these kinds of longer-term projects, even though this is a really tough time, have big advantages for longer-term sustainability too," she said.
Alex Hynes, managing director, Scotland's Railway, added: "The opening of this new facility is an exciting and important milestone for rail freight in Scotland.
"It's an excellent example of the public and private sectors working closely with
government to fight climate change head-on.
"To achieve net zero, we are working hard to ensure that rail freight becomes the primary logistics choice for businesses in Scotland by 2035."