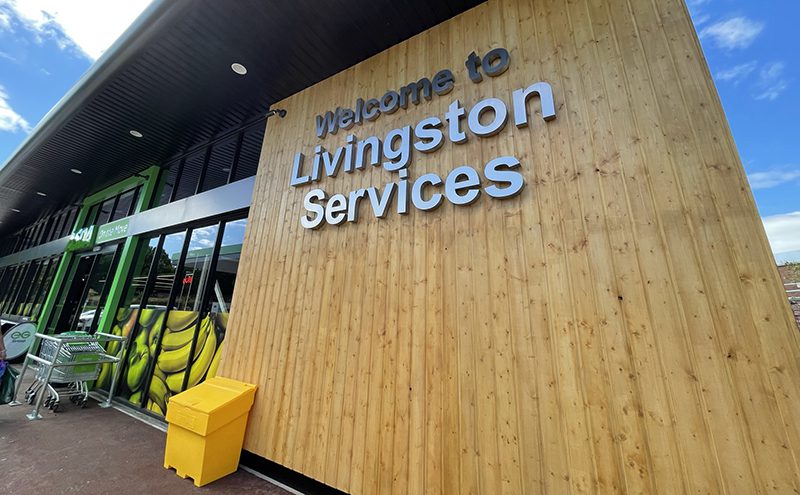 ASDA has opened its first 'Asda On the Move' format store in Scotland. The new forecourt c-store opened its doors at The Centre (formerly the Almondvale Shopping Centre) in Livingstone on 7 July.
According to Asda, the store boasts over 2,500 branded and own-brand products. These include 140 lines from Scottish suppliers, such as McGhee's rolls and cakes, and meat products from Malcolm Allan. The supermarket said its new site places a larger emphasis on fresh produce than a typical forecourt convenience store.
Asda owner EG Group has also expanded its fast food brand Leon to Scotland through the On the Move opening. The store houses a Leon self-service coffee kiosk, one of only four in Scotland at present.
The opening has also created 15 new full- and part-time jobs in the local community. Further c-store roles are expected for the future too, as Asda plans further expansion for its new format. The Livingstone site is Asda's 36th convenience retail launch since it first introduced the format in 2021, with more in the pipeline. Asda initially launched its On the Move format at five EG forecourt sites south of the border. In October of last year, the supermarket began a wider rollout of On the Move and is aiming to hit 200 sites by the end of 2022.
Georgina Cokill, senior director for wholesale and convenience at Asda, said: "The launch of our first Scottish Asda on the Move store is a milestone in our convenience journey, as we build on our strategy to bring essential Asda products to more convenient locations through our partnership with EG Group.
"Customers in Livingstone can now benefit from our strengths in grocery retail alongside EG's experience in creating a compelling, convenience store offer that brings great quality products together to make it easier for customers to shop on the go."