Limited edition launch to coincide with film release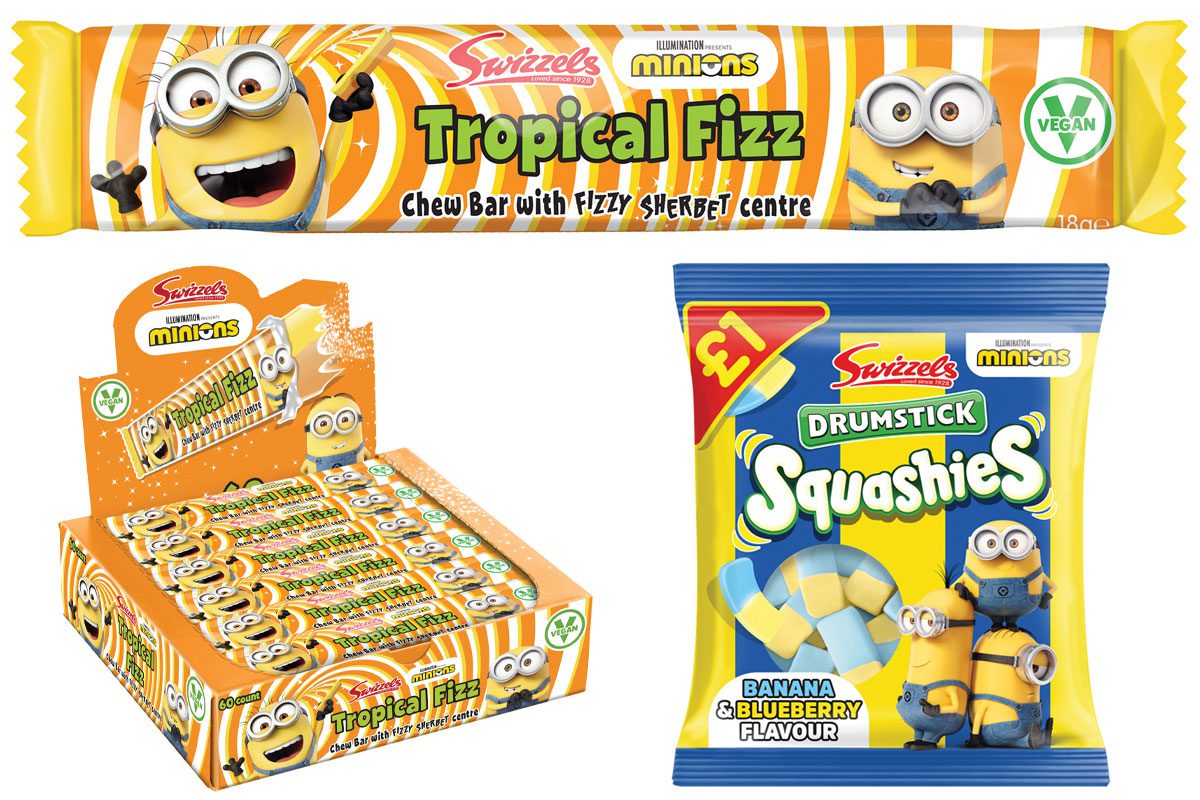 THE Minions are back and this time they're giving consumers something to chew on, through a brand partnership with Swizzels.
Timed to coincide with the release of Minions: The Rise of Gru, the limited-edition Swizzels range is running across the brand's Squashies and chew bars.
The Swizzels Minions range comprises: Minions Banana and Blueberry Squashies (120g); Minions Tropical Chew Bars (120g); and Minions Tropical Fizz Individual Chew Bar.
Minions Banana and Blueberry Squashies is a brand new flavour for Swizzels, according to the confectionery maker. The limited edition release comes in blue-and-yellow striped packaging, echoing the Minions characters' dungarees.
Described as a "brand-new product" by Swizzels, Minions Tropical Chew Bars packs include two tropical flavours: Peach & Passionfruit and Mango & Pineapple. Swizzels Minions Tropical Chew Bars are suitable for vegans.
Both the Minions Banana & Blueberry Squashies and Minions Tropical Chew Bars packs feature a £1 price mark.
Another new release for Swizzels, Minions Tropical Fizz individual chew bars first landed on store shelves last month.
Priced at 15p RRP, Minions Tropical Fizz chew bars are vegan friendly and feature what Swizzels described as a "surprise sherbet centre" that is encased in a tropical flavoured chew.
The Minions feature prominently across packaging for all three variants, with designs that take their cues from the style and colour palette of the animated characters.
According to Swizzels, the Minions branded treats are "certain to prove popular with consumers" and the confectionery maker has suggested retailers make the most of this by making use of eye-catching, seasonal displays in store.
Swizzels is also supporting the limited-edition launch through a marketing blitz to run throughout the summer.
• Swizzels is a family-owned independent sugar confectionery maker based in the UK.
The firm's confectionery range includes Love Hearts, Refreshers, Drumstick Lollies, Rainbow Drops, Double Lollies, Squashies and Fruity Pops.