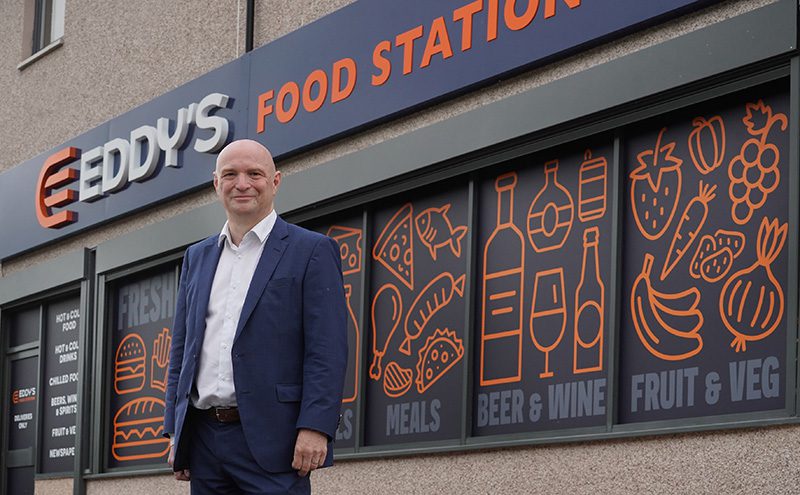 MORNING Noon and Night co-founder Stephen Thompson has launched a new convenience retail brand, with plans to open at least 30 stores.
Eddy's Food Station opened its doors on 11 May in Alloa, creating 14 new jobs in the process.
The new retail brand is named after Thompson's father Eddie. Eddie and Stephen Thompson achieved significant commercial success through their Morning Noon and Night brand, selling the chain's 50 stores for £30m in 2004.
Expansion is high on the agenda for Eddy's Food Station, according to Thompson, who said he expects to hit the 30 store mark in five years. According to the retailer, his plans will lead to the creation of 500 retail roles across Central Scotland. It is expected the store estate will comprise a combination of new sites and conversions at existing retail units.
Thompson's return to convenience retail follows a decade-long spell as a senior football executive, having served as chairman of Dundee United Football Club from 2008 to 2018.
Stephen Thomson commented: "The opportunity to operate a successful chain of convenience stores is very promising right now and this venture is an extremely exciting first leg of a long journey for the Eddy's Food Station brand.
"The retail industry is an industry I know and love. It's an avenue I've always wanted to return to and I couldn't be happier that it's finally happening. We're investing heavily in resources and research into our offering and we're passionate about giving our customers an unrivalled, superior experience.
"We're taking this opportunity to shake up the market, creating a retail experience that combines convenience and quality and goes above and beyond customer expectations. Our employees are fully equipped to create an environment that will give customers the best possible experience and create a real sense of community."
Dr. John Lee, head of public affairs at the Scottish Grocers' Federation, welcomed Thompson's return to the convenience retail channel.
He said: "We are delighted to support the launch of Eddy's Food Station. The development of a new group of convenience stores is an indication of how strong the convenience sector is and how popular the convenience channel is with customers.
"This is a very impressive level of investment which will create significant new jobs and provide valuable services to our communities. We wish Eddy's Food Station every success."