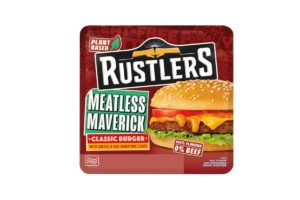 KEPAK Foods will bring on-the go convenience to vegetarian consumers in 2022 through its Rustlers Meatless Maverick.
Made using pea protein, the new meat-free burger has launched in Tesco, One Stop and through Booker. It is priced at £2 RRP.
Targeted at consumers looking to cut back on meat consumption this January, Kepak reckons the new meat-free burger will meet demand "from shoppers following flexitarian and meat reducing diets."
The Meatless Maverick is said to mimic Rustlers' bestselling SKU the Quarter Pounder complete with the brand's 'signature sauce'.
Adrian Lawlor, chief marketing officer of Kepak Group, acknowledged the need to react to the "rapidly accelerated growth" found in the meat free category.
"It's important for a brand like Rustlers which has built its success on meeting clear consumer needs to recognise this trend and provide solutions to meet it
"Put simply, as a brand with significant equity around tasty meat-based products, we have strong consumer credibility to meaningfully mimic the taste of meat," he said.