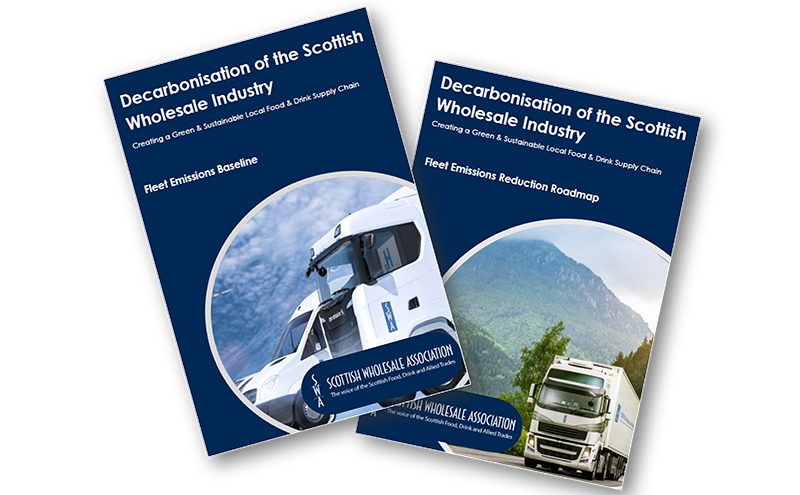 The Scottish Wholesale Association (SWA) has set out set out a pathway to net zero emissions for the sector's vehicle fleet, through the publication of findings from the first phase of its 'Decarbonisation of the Wholesale Industry' project.
Focusing on emissions from vehicles used in Scotland's wholesale channel, the report includes the sector's fleet emissions baseline as well as proposals for a path to zero emissions.
The report found that the Scottish wholesale industry fleet operates a total of 2,198 vehicles, with HGVs accounting for 48% of that fleet. According to the SWA study, carbon emissions from the Scottish wholesale sector equates to the 111,000 tonnes of CO2 emissions each year. It also revealed that there are "currently no commercially viable zero-emission HGVs available in the UK", while claiming that hydrogen-powered vehicles "would appear to be the only commercially viable option for HGVs."
As part of efforts to bring this number down, the SWA has been working with Arcola Energy to make a business case for fuel cell technology in the UK's transition to zero-emission road freight.
Arcola Energy has supported the SWA by leading a hydrogen fuel cell freight pilot scheme that has seen SWA members trial vehicles using hydrogen fuel cells.
The SWA has also called for the Scottish Government to provide support for the sector as it makes the transition to greener vehicles.
Colin Smith, chief executive of the SWA, said: "This project is one of the most detailed undertaken by any sector involved in logistics and haulage, and is based on real data and evidence, compiled direct from our members.
"These newly-available figures shine a spotlight on the barriers and challenges facing food and drink wholesalers – the 'wheels to the food and drink industry' – as they seek ways to reduce their carbon footprint.
"We need the Scottish Government to provide financial support for wholesalers to implement a wholesale industry-wide driver efficiency training programme to reduce emissions.
"Some of our members are already using tools to help reduce emissions through driver efficiencies but we need more financial support to enable more wholesalers, particularly smaller ones who have suffered so much over the past 18 months, to join us on this important journey."
The next phase of the SWA's decarbonisation programme will see the trade association focus on wholesalers' buildings and cold storage, with phase three concentrating on how staff move around the country – including their commutes.