Larger pack formats are in pole position for festive trading period.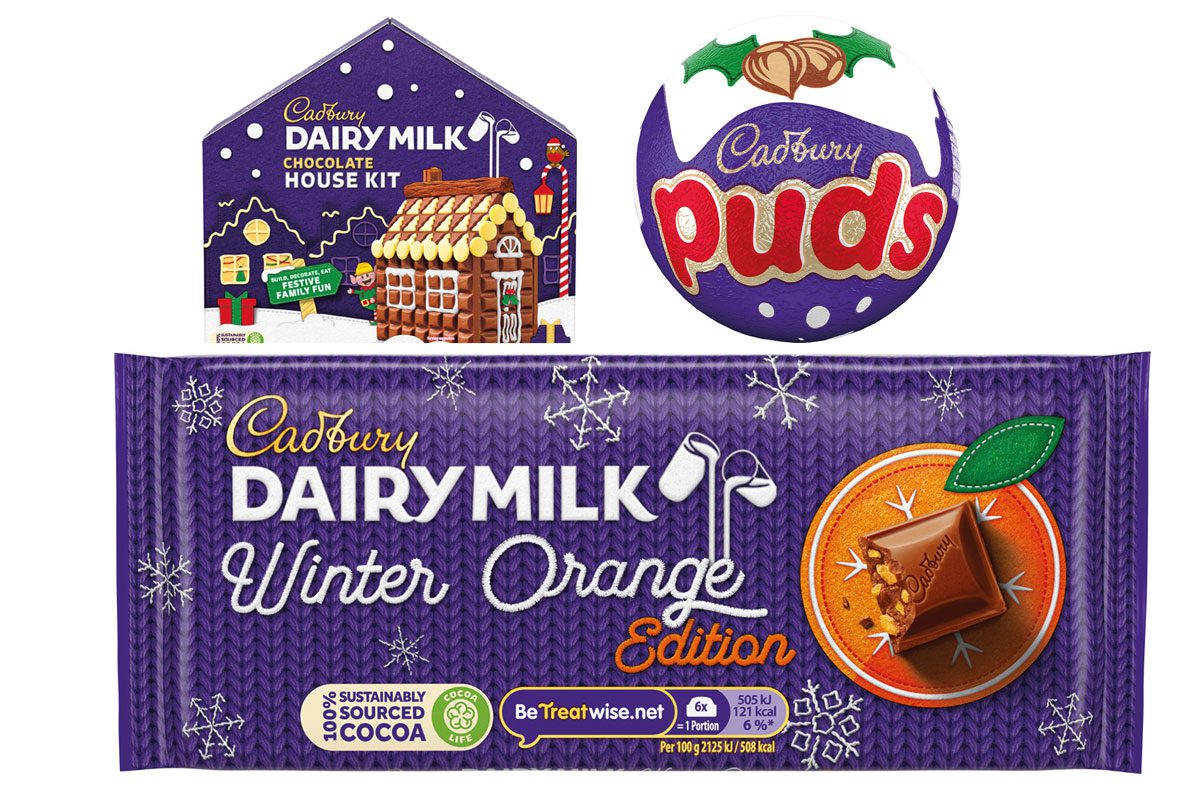 AT this time of year, Santa Claus must surely be putting his sleigh in for pre-flight checks.
Much like everyone's favourite beard wearing toy merchant, Scotland's retailers will already be hard at work making sure they've got the right range of festive treats to spread joy this Christmas.
Following celebrations in 2020 that could generously be described at 'muted', this Christmas is shaping up to be a cracker – and confectionery brands reckon there's money to be made in the convenience channel.
• Susan Nash, trade communications manager at Mondelez International – the firm behind Cadbury, Oreo and Maynard's Bassetts – said the firm is once more "gearing up to help retailers with their seasonal sales."
"New treats and returning favourites will be in store for the 2021 Christmas season across confectionery and biscuits," she said.
Mondelez has gone big on seasonal NPD this year, with new confectionery lines including Cadbury Dairy Milk Winter Orange Edition; Cadbury Puds; Cadbury Advent Calendar – Build Your Own Christmas Tree; Cadburry Freddo Colour Me In Advent; Cadbury Dairy Milk Chocolate House; and Cadbury Dairy Milk Collection of Festive Favourites.
All that NPD should help retailers keep their tills ringing, according to Nash.
"Chocolate is a key category at Christmas, so it's essential that retailers prepare their range now to maximise shoppers' seasonal spend," she said.
"The opportunity for independent and convenience stores has already begun and will last until the end of December, with phases to enable them to stock the right range at the right time."
The dreich weather that many Scottish consumers have endured this Autumn may not be ideal for outdoor activities, but cold, wet, dark days do play into the hands of confectionery brands.
Nash suggested that as the weather turns, shoppers will spend more time at home – bringing the seasonal opportunity forward.
"Nights are drawing in and we are all well into our autumn routines, increasing the demand for sharing formats for the 'big night in' occasions, such as cartons and pouches of Cadburuy Heroes and Cadbury Roses.
"This month, the 'Self-Treat' section takes prominence as the core Christmas season really begins and shoppers start to treat themselves and loved ones to self-treat and novelties confectionery such as Cadbury Mini Snowballs and Little Robins.
"Retailers should now also begin the 'Countdown to Christmas' in store with advent calendars and tree decs.
"Finally, as we enter December and the big day approaches, retailers must deliver 'Christmas Magic'', when shoppers are increasingly looking to trade up, by stocking up on gifting and selection packs to drive maximum sales from festive shoppers," she said.
• Gifting packs and larger formats are also high on the agenda at Lir Chocolates.
The firm, which produces the Baileys Chocolate Collection, has predicted that this festive season will see increased demand for boxed chocolates as some consumers remain cautious of nights out in the hospitality sector.
Katie Byrne, brand manager at Lir Chocolates, said: "Although restrictions have eased this year, it is predicted that at home entertaining and dinner parties will still be higher compared to years previous to 2020.
"Sharing products and lines with some theatre will benefit from this, with consumers wanting to showcase extravagant products at home.
"With this the first Christmas that shoppers hope to be normal since the pandemic started, consumers are predicted to splash out, with 30% planning to spend more."
Increased demand for sharing formats isn't just driven by consumers entertaining house guests – or quietly demolishing during a Netflix binge on a cold night – they also offer health-conscious consumers the opportunity to exercise portion control, as Byrne explained.
"Boxes of chocolates are continuing to become increasingly popular over larger bars, due to consumers becoming more health-conscious.
"They're easier to share and include a larger variety of flavours for consumers to try, as well as being perfect for gifting on special occasions," she said.
The gifting potential for larger confectionery packs further adds to the format's appeal at a Christmas, according to Byrne, who predicted further growth driven in part by adult consumers hoping to try something new.
"Adult gifting and especially adult novelty gifting and adult indulgence was on trend for Christmas 2020 and is set to rise for 2021 – adults are looking for more indulgent treats and at-home experiences."
"Last year togetherness gained a renewed importance with families who were apart over Christmas. Given that the season is all about spending time with loved ones, we expect sharing products along with more premium offerings to prove even more popular this year," she said.