Success is a family affair for confectionery brand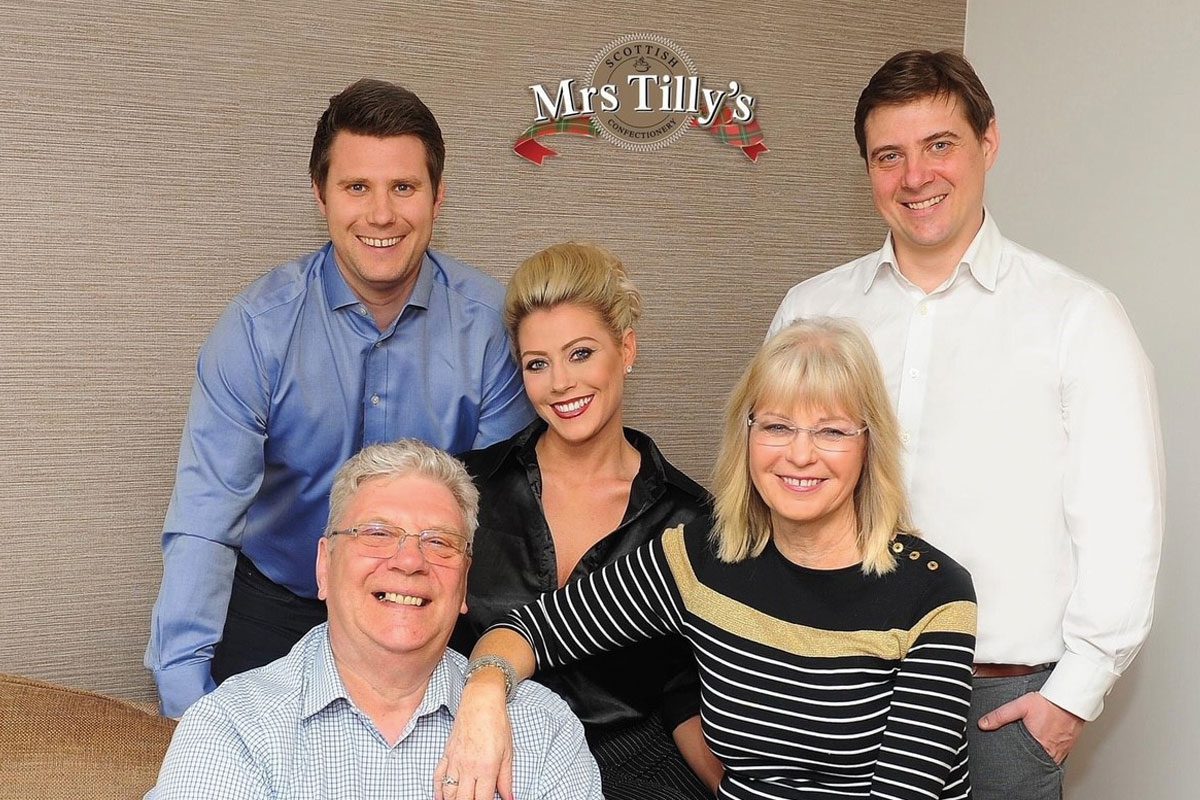 Where do you work?
I work for a company called Tilly Confectionery Ltd, which is more widely known for producing confectionery products under the brand, Mrs Tilly's.
It is a family business, so I have been involved with it from a young age, but only started to work in the business 13 years ago, aged 23 and straight out of university.
I started my journey off on the factory floor learning recipes and methods and how production works and does not work, even although you think you've done everything the same way.
What does your role involve?
My main focus is on the strategic direction of the business. We have grown significantly in the last few years with continual reinvestment projects such as production efficiencies and upscaling to our processing and packaging lines.
The business is about to go through a further stage of investment in a new factory extension as well as new packaging lines to help keep up with demand, from our growing Scottish customer base – but also as we expand into the wider UK and more international markets.
In terms of the day-to-day running of the company, as we're still a fairly small company, I'm involved in all aspects of the business, from purchasing all the way through to sales and marketing.
I'm more hands on in certain areas such as production and engineering, looking at efficiencies and processes. We have a senior management team who look after their own specific areas in more detail.
Favourite part of the job?
I love the challenge of a FMCG business with every day being completely different. We go through highs and lows on a daily basis and never really know how each day is going to pan out, good or bad.
At heart I'm a total machine geek and love looking at equipment and how it all works, and how it can help make a process more efficient.
Manufacturing isn't easy, taking raw materials and using a process to transform it into something else has it's challenges. So many different things could go wrong, but I enjoy working through the problems that are part and parcel of the operational world.
What's your brand's story?
Mrs Tilly's is one of Scotland's great family business success stories. From humble beginnings in the founding family's home kitchen, the business has now grown steadily over the past 24 years to become Scotland's leading brand for premium confectionery. Mrs Tilly's is a Top 50 Scottish grocery brand.
Elisabeth, our co-founder – and the real life Mrs Tilly – together with husband Peter, never imagined when they made their first batch of Scottish Tablet bars, to an old family recipe at home in their kitchen in Tillicoultry in 1997, that they were about to embark on a journey that would eventually see their products listed all across Scotland – from corner shops to major retailers.
Mrs Tilly's is famous for producing quality traditional Scottish confectionery – including Tablet, Fudge and Macaroon, and more recently introduced new products including Chocolate Honeycomb and the world's first Tablet-Coated Popcorn, which has proven to be a huge hit with consumers.
In 2020, the Mrs Tilly's brand gained national distribution of its Vegan Fudge range with two major UK retailers and in the past five years the business has expanded into export markets from Toronto to Tokyo.
Throughout all of this careful expansion, the business focus has always been to ensure the quality we produce everyday is as good as when it all began back in Elisabeth's family kitchen.
From the noted humble beginnings of their family home, the business now operates from a 17,500 sq ft manufacturing facility in Central Scotland – which is BRC AA rated.
What's your USP?
Our product USPs include: selecting only the finest quality ingredients; bespoke open pan cooking – to replicate the homemade quality you could get using a pot on your stove at home; we never use any hydrogenated fat or palm oil in our products; all of our products are suitable for vegetarians, gluten free and non-GMO.
What's your favourite Mrs Tilly's product?
Our Macaroon bars is my go to product. It's not as popular as our Famous Scottish Tablet, but I love the balance of the sweet fondant centre with the chocolate and the texture of the roasted coconut on the outside.
How important is the convenience channel to you?
Extremely important, in recent years we have worked hard with Scottish convenience retailers to drive distribution – and we always support that with a strong promotional plan.
Consequently, we have now developed fantastic partnerships with many convenience retailers in Scotland and we definitely see these collaborations growing further in the years ahead.
Where can retailers stock up on Mrs Tilly's??
With the continued support from buyers of Scottish brands, Mrs Tilly's is now available in most wholesalers throughout Scotland. Contact us for further assistance.