MD Mudassar Aziz on hard seltzer success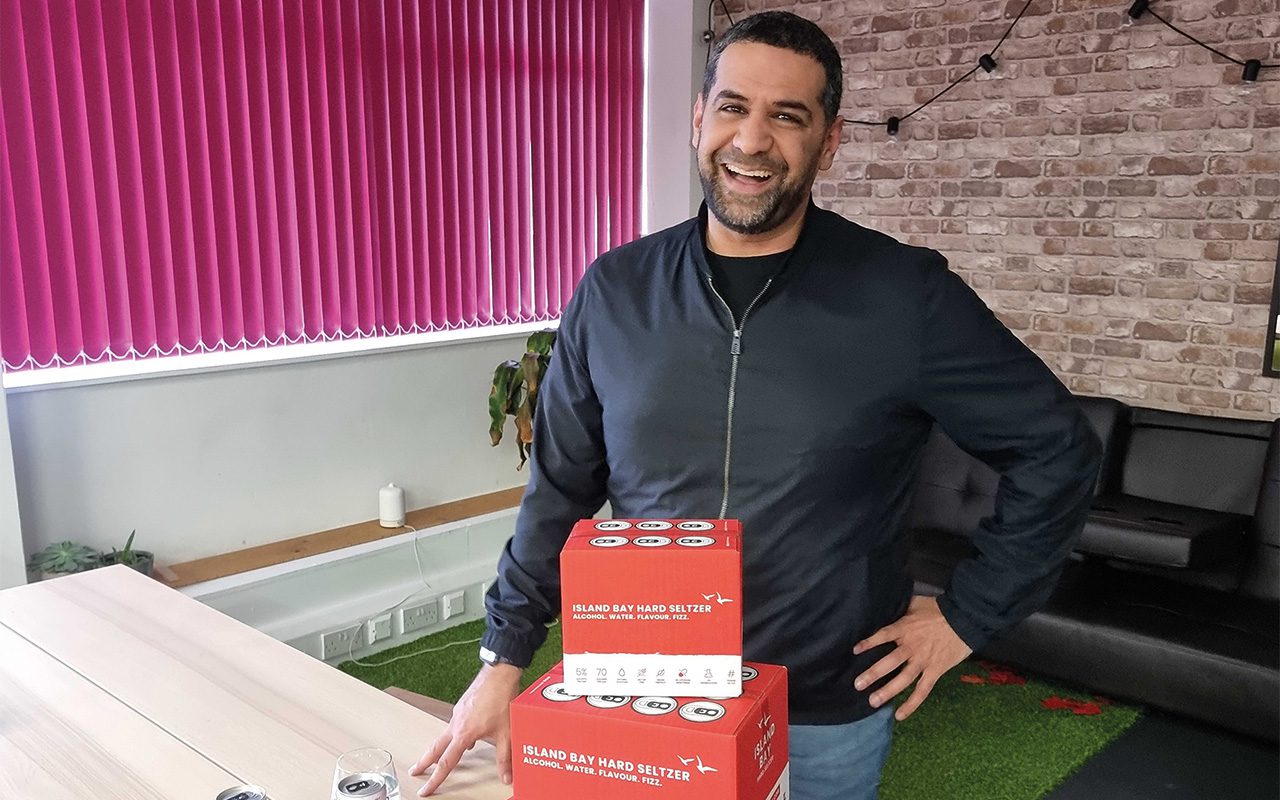 Tell us about your role
I am the founder and MD of Island Bay Hard Seltzer, which launched in October 2019 as one of the first hard seltzers in the UK. I also own Hydrate Drinks, a leading outsourced sales agency for global drinks brands, and I'm a partner in Media Centre, a specialist advertising and marketing agency.
Having such a strong team around me allows me to focus on making critical business decisions and futureproofing. This could be around listings, commercial deals, logistics, driving NPD with my development team, visiting production facilities, sourcing ingredients and securing future funding.
I liaise daily with my core teams across sales, marketing, advertising, PR and design. I'm more of a sounding board for everyone so decisions can be made quickly to keep pushing the business forward to drive our goal of making Island Bay the No. 1 selling hard seltzer in the UK.
What's your brand's story?
The idea for Island Bay came about from a visit to the US in 2014 when I stumbled across a brand called Spiked Seltzer. I was intrigued by this new category that was emerging, which was basically alcoholic water, and as clean a concept of alcohol as you can get.
I kept an eye on this trend and watched it explode capturing a younger drinking audience who didn't really have a taste for spirits or beers that their parents drank. I knew 2019 was the right time for us to develop our version of hard seltzer, offering the taste profile and product size suited to the UK drinker.
Interestingly, the name came from my visit to a place called Island Bay in New Zealand in 2017. It was a beautiful, serene hideaway in the world and instantly made me think of purity and tranquillity; that's what I envisioned my drink to be – pure, simple and clean.
What's your USP?
We have no sugar, no carbs and fewer calories than RTD cocktails, a pint of beer or an average glass of wine. As well as being vegan and gluten free, I think this combination is a huge selling point for us at a time when consumers are looking to reduce their alcohol intake either to control calories or for wider health reasons.
Who is buying Island Bay?
Our sales data shows an equal gender split. 18-35s are leading the way generating the highest level of repeat purchases. This younger drinking audience don't really have a taste for spirits per se, but like this idea of drinking a very neutral alcohol with no hidden nasties like sugars.
Our research also shows that people are really trying to be healthier and eat better whilst finding new ways of exercising at home. They're looking to fit alcohol into their new diets and nutritional plans, and Island Bay is a massive catalyst for people being able to feel they are not sacrificing everything when it comes to changing their lifestyle.
What's your favourite Island Bay flavour and why?
Anyone in the office would tell you I have a very sweet tooth with a drawer full of snacks. So strawberry is definitely my favourite. We made a big effort to keep the strawberry flavour naturally sweet and it works incredibly well as a mixer too.
How important is the Scottish convenience channel to Island Bay?
Scotland is an incredibly important market for us. We've seen our highest growth and our highest repeat orders from Scotland, both from our online shop and from the retail side of the business. We've been overwhelmed by the sheer support from Scottish consumers, who have really taken to Island Bay.
We have local wholesalers supplying into the major cities of Scotland, and we're focussing on a bigger rollout here so people can buy more easily from their local convenience store, and are currently in talks with key suppliers like CJ Lang.
Any exciting news to share involving the brand?
We recently secured a listing with WH Smiths Travel UK stores at the end of last year, the first 250ml hard seltzer to be stocked on their shelves. We've seen an incredible rate of sale and after just two months our listing was significantly expanded across their travel estate.
We were the first hard seltzer brand to invest aggressively in UK DOOH, alongside our heavily weighted YouTube and social activity, and we'll continue to push our advertising strategy thanks to significant investment secured this year. We're also close to finalising some exciting NPD plans for new special variants which we hope will be ready for the summer. There's a lot coming from Island Bay so keep an eye on us.
How is Island Bay performing in Scotland?
Our RRP is aggressive at £1.80 – the best value RTD in the market, and potentially the best-selling 250ml hard seltzer in the UK at that price.
Combined with our flavour profiles, this has really appealed to the consumer which has resulted in retailers seeing a healthy rate of sale with good margins from Island Bay Hard Seltzer. For Scotland alone, we are currently tracking at double-digit cans per store per week in independents, resulting in good reorders from wholesalers.
I think this high uptake has been helped significantly by the design of our cans and POS which make us stand out on a shelf and leaves a memorable impact with customers.