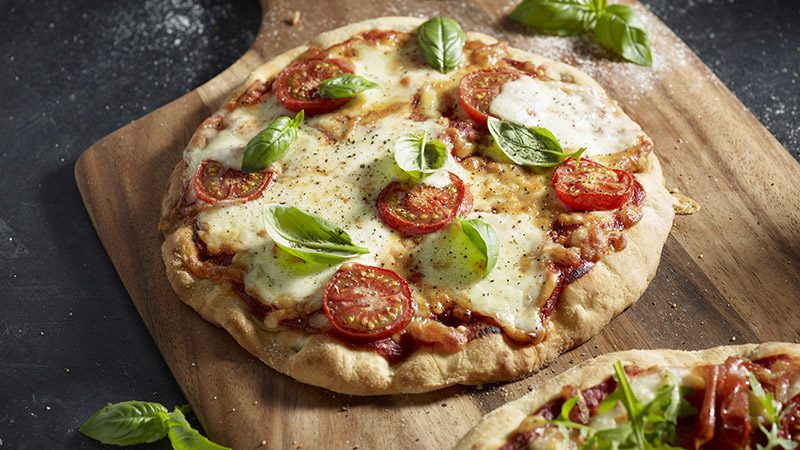 COUNTRY Choice has launched a new pizza-to-go brand for the convenience sector.
Flatstone Pizza Co. lets retailers create pizzas using the hand-stretched pizza bases, sauce made from tomatoes, oregano, peppers, basil, and garlic which is supplied in 1.5kg pouches, and a variety of toppings. Recipe cards for eight pizza flavours are also provided which outline RDI and allergy information.
The new pizza-to-go concept offers retailers a choice of three equipment options to bake the pizzas – a convection oven, a tabletop pizza deck that includes a fire-brick base and a Merrychef oven. On-site training for retailers is also included.
Utensils such as boards, knives, sauce bottles, spoons, portioners and pizza cutters are provided by Country Choice, as well as 9-inch and 11-inch wooden serving boards for table service, recycled pizza boxes for take away, and a carry bag for deliveries.
Country Choice has also launched Flatstone Pizza Co. marketing materials, including posters, social media graphics, drinks coasters, editable menus and social media videos to promote their in-store pizza offering.
Neil Lindsell, retail operations manager said: "Demand for pizza continues to grow, driven by big brand advertising and the growing home delivery sector. As a result, 85% of Brits now buy pizza so there has never been a better time for retailers to add it to their menu. The opportunity to include pizza as part of a takeaway or home delivery option is particularly beneficial to a retailer's food to go offer as it allows them to extend it into the evening and secure incremental sales of accompaniments such as salad and alcohol."