The brewing giant behind Scotland's most popular lager plans to invest an eight figure sum on projects that will improve sustainability in the years ahead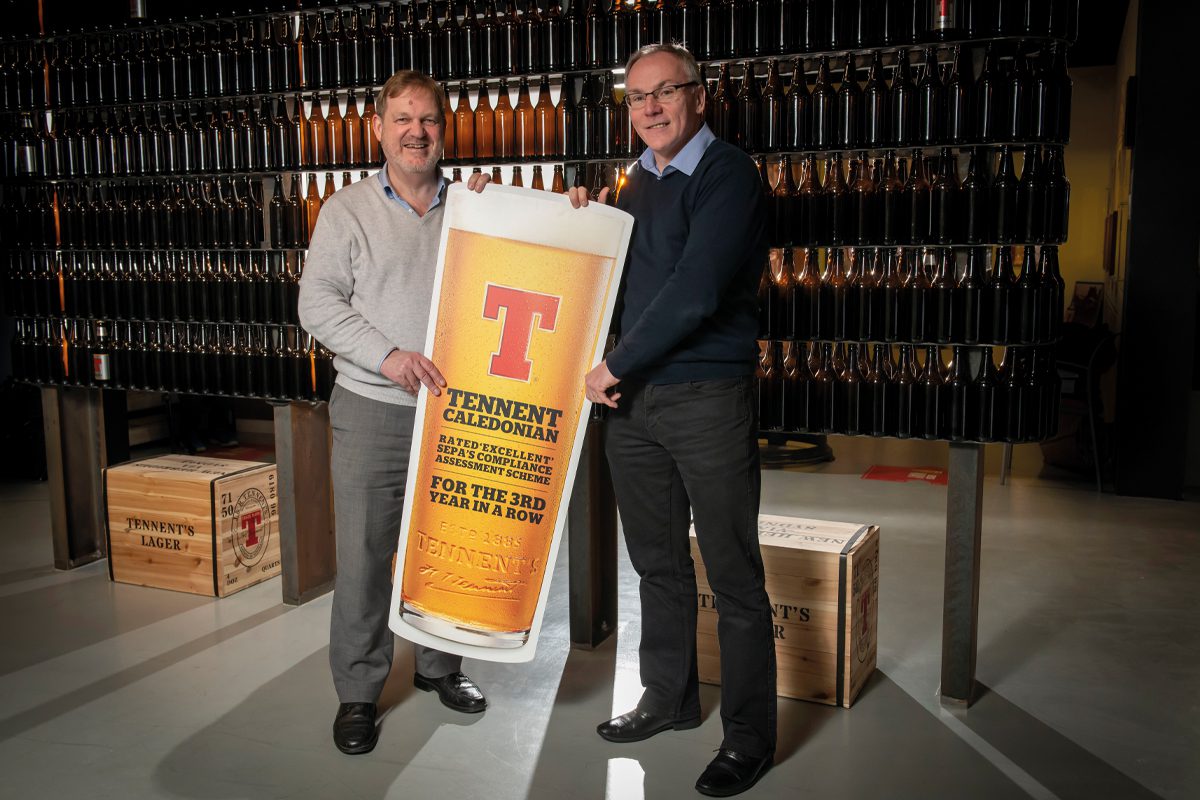 WITH sustainability making so many headlines over the last year, just about every brand will take steps to appear more environmentally friendly.
But an investment of £14.2 million in sustainability – the figure pledged by Tennent's in October last year – is certainly more than lip service to the cause.
Iain Telford, customer marketing manager at Tennent Caledonian Breweries said the brewery – and parent company C&C Group – has made sustainability a priority across the board, which should be good news for retailers too.
"More and more, consumers are looking to spend – and drink – with their social conscience.
"Climate change is a pressing concern for all of us and as Scotland's oldest surviving business, and one of its best-loved, we take our responsibility to do the right thing very seriously.
"Across C&C Group, we've reduced the total number of deliveries and total miles covered, which shrinks emissions and product miles.
"We've done this through things like increasing direct deliveries – meaning fewer secondary loads – working with grocer partners who collect directly from Wellpark, and using special software to optimise route planing," he said.
Emissions aren't the only area where Tennent's has taken action. The brewery has also joined the UK Plastics Pact, an initiative that sees businesses, governments and non-government organisations work together on reducing plastic waste.
And since August 2019, Tennent's has operated a water treatment plant at its Wellpark Brewery, allowing for the on-site treatment of wastewater generated during the brewing process.
The brewer has also recently broken ground on a new carbon-capture facility at Wellpark which it reckons will save 4,200 tonnes of carbon dioxide emissions per year – the equivalent of 27,000 flights to London from Glasgow each year.
It's a lot of work, but it's worth doing according to Telford, who said 88% of consumers now want brands to help them live sustainably.
"With this in mind, we communicate everything from our commitment to being out of single-use plastic by 2021, to being carbon neutral by 2025, to our consumer sustainability pledge," he said.
Tennent's main way of communication its sustainability credentials to consumers is through its 'Because Life is Bigger than Beer' campaign.
The campaign highlights the climate crisis, as well as the measures the brewery is engaged in to mitigate its impact.
"If we show what we're doing and why it's important, not only can we help to set an example, we can encourage our drinkers and others to get involved, find out more about the issue and be an active part of the solution.
"Everyone can take part – and lots of little changes add up quickly," said Telford.
The changes made by Tennent's are already adding up to recognition. Scottish environmental regulator SEPA recently awarded the brewery 'Excellent' status for the third year in a row through its compliance assessment scheme.
Tennent Caledonian was commended by the agency for its compliance during the 2018 reporting period.